Maria Menounos' Fluffy Greek Zucchini Patties
Fitness Food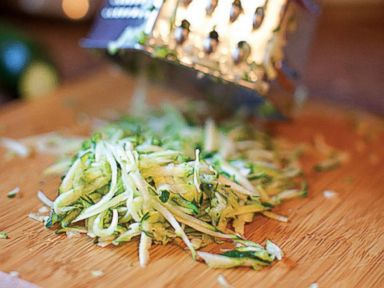 From the kitchen of Maria Menounos
|
TV personality Maria Menounos was once a size 14, tipping the scales at 160, until she completely revamped her approach to nutrition and exercise and dropped 40 pounds. Now she's sharing her secrets in a new book, "The Everygirl's Guide to Diet and Fitness," which includes tips and recipes like her Fluffy Greek Zucchini Patties below.
Ingredients
4 large zucchini, grated
1/2 cup minced Italian parsley
1/2 cup grated Parmesan cheese
4 garlic cloves, minced
Crushed red pepper flakes (optional)
1 cup plain bread crumbs
1 large egg
Salt and pepper to taste
1 cup all--purpose flour
1 cup olive oil (for frying)
Cooking Directions
Place zucchini in a colander and squeeze out as much water as possible. Transfer to a large bowl. Add parsley, Parmesan cheese, garlic, crushed red peppers (if using), egg, salt and pepper, and bread crumbs. Mix well.
Form mixture into small balls. Roll a ball in the flour, shake off excess, and place it on a sheet of aluminum foil that you've set out near the stove. Press gently to flatten slightly. Repeat with remaining zucchini balls.
Heat the oil in a deep, heavy skillet. Place a few zucchini balls at a time into the hot oil. Make sure not to overcrowd the pan. Fry zucchini balls, flipping them over so that both sides get golden brown. Remove balls with a metal slotted spoon or tongs and place on a plate lined with paper towels to drain. Repeat with remaining zucchini balls.
Note: These are excellent to serve with tzatziki sauce for dipping. (Tzatziki is a yogurt, cucumber, and garlic spread. You can buy it already made at most grocery stores.)
Excerpted from THE EVERYGIRL'S GUIDE TO DIET AND FITNESS by Maria Menounos. Copyright 2014 by Maria Menounos. Excerpted by permission of Random House. All rights reserved. No part of this excerpt may be reproduced or reprinted without permission in writing from the publisher.
Other Recipes That You Might Like