The Frankfootas' Katz's and Dogs
Try a recipe from a competitor on "The Great Food Truck Race"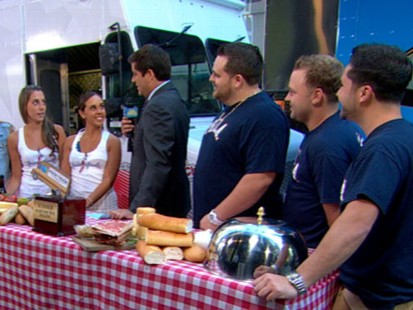 Two teams are given 45 minutes to prepare perfection on a plate live on "GMA."
From the kitchen of The Frankfootas
|
The Frankfootas (Dana, Mirlinda and Victoria) are representing New York City in the fourth season of "The Great Food Truck Race" on the Food Network. Try their take on the Big Apple's signature franks with a twist.
Ingredients
For the Frankfoota:
8 Nathan's Famous 'Bigger Than the Bun' Beef Franks
3/4 lb of Katz's famous Corned Beef (Sliced)
8 Rye Bread Buns
8 Slices of Swiss cheese
1/2 lb sauerkraut (Drained)
2 tablespoons of butter (melted)
Russian Dressing
For the Russian Dressing:
1/2 cup mayonnaise
2 tablespoon ketchup
2 tablespoon of pickled relish
1/4 teaspoon of Worcestershire Sauce
2 tablespoon of fresh lemon juice
1/2 teaspoon paprika
Salt, to taste
Freshly ground black pepper, to taste
Cooking Directions
Butterfly the Franks and grill over medium heat for 5 to 7 minutes, flipping them frequently (cooking times may vary). Just before they're finished, use a basting brush to butter the outside of the Rye buns, place a slice of Swiss Cheese in each one and toast until the cheese is melted. Put the Franks in the buns, and divide the sauerkraut and Katz's Famous Corned Beef among the the Frankfootas. Drizzle Russian dressing on top to your liking.
Serve with a Katz's Famous Pickle for the full blown New York experience!
To Make the Russian Dressing:
Combine the ingredients in a small bowl. Cover and refrigerate (It can be made and refrigerated for up to 1 week prior to use).
Recipe courtesy The Frankfootas and Food Network's "The Great Food Truck Race."
Other Recipes That You Might Like