Gail Simmons' Braised Pork Meatball Sliders
Try This Sophisticated Yet Simple Slider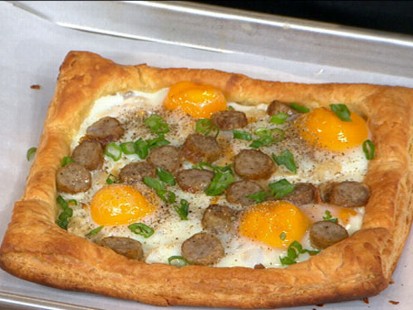 The "Top Chef" judge kicks off the new year with a breakfast tart.
From the kitchen of Gail Simmons
|
Gail Simmons, Food & Wine's Special Projects Director and a judge on Bravo's "Top Chef" shares a recipe for her Braised Pork Meatball Sliders, sure to be a hit at your next get together.
Ingredients
For the Meatball Sliders:
1 pound lean ground pork
2 cloves garlic, minced
2 teaspoons toasted fennel seeds
3/4 teaspoon kosher salt
1 teaspoon red pepper flakes
1 tablespoon vegetable oil
14 mini brioche slider rolls
14 bread & butter pickle chips
For the Sauce:
2 tablespoons olive oil
2 cloves garlic, finely sliced
1 small onion, finely sliced
1/2 fennel bulb, trimmed and finely shaved
Coarse salt and freshly ground black pepper
1 teaspoon ground fennel seeds
1/2 cup dry white wine
1 28-ounce can crushed San Marzano tomatoes
Cooking Directions
To form the meatballs, combine the pork, garlic, and fennel seeds in a large bowl and season with salt and red pepper flakes. Mix well then form into approximately 14 2-inch round meatballs. Set on a try in the fridge to firm up while you prepare the sauce.
Heat 2 tablespoons olive oil in a large Dutch oven. Add garlic, onion, and fennel. Cook until onions and fennel are very tender and lightly caramelized, about 10 to 12 minutes. Season with salt and pepper then add ground fennel seeds. Deglaze with white wine, reduce slightly, and pour in tomatoes, crushing them with a wooden spoon to break them up. Bring to a boil then reduce heat and simmer, covered for 15 minutes.
To cook the meatballs, set a large sauté pan over high heat and add vegetable oil. When very hot, brown meatballs all over, about 2 to 3 minutes per side. Use a slotted spoon to transfer meatballs to the Dutch oven and nestle them in the sauce. Cover slightly with a lid and simmer for about 10 to 15 minutes until very tender and cooked through.
To assemble the sliders, use a slotted spoon to remove each meatball from the sauce. Set each meatball on the bottom half of a brioche bun and top with 1 tablespoon sauce and a pickle chip. Place the top of the bun on the slider and secure with a toothpick. Repeat with the remaining sliders. Serve immediately.
Yields: 14 sliders
Other Recipes That You Might Like