Gail Simmons' Outrageous Pretzel Bars
The Perfect Combination of Sweet and Salty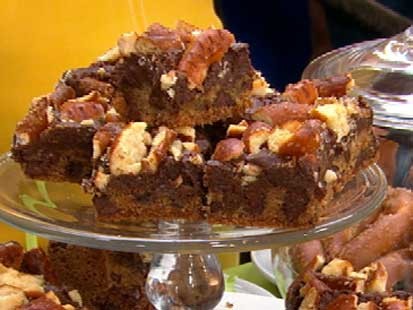 From the kitchen of Gail Simmons
|
"These bars are a pretzel lover's dream—they're super-fudgy on the inside and impossibly crunchy on top. This recipe is a great way to use the broken pieces left in the bottom of a bag of hard pretzels."
For more recipes from Food & Wine, visit their site here.
Ingredients
One 14-ounce can sweetened condensed milk
4 cups semisweet chocolate chips (24 ounces)
1 tablespoon plus 1/2 teaspoon pure vanilla extract
2 1/4 cups all-purpose flour
1 teaspoon baking soda
1/2 teaspoon salt
2 sticks unsalted butter, softened, plus 3 tablespoons melted butter
3/4 cup dark brown sugar
3/4 cup plus 1 tablespoon granulated sugar
2 large eggs
2 cups coarsely chopped large hard pretzels
Cooking Directions
Preheat the oven to 350 degrees F. Line a 9-by-13-inch baking pan with parchment paper or foil, allowing 2 inches of overhang on the 2 long sides.
In a medium saucepan, combine the condensed milk with 2 cups of the chocolate chips and stir over moderately low heat until the chocolate is melted. Remove from the heat. Whisk in 1 1/2 teaspoons of the vanilla and let cool completely.
In a medium bowl, whisk together the flour, baking soda and salt. In a large bowl, using a handheld mixer, beat the 2 sticks of butter with the brown sugar and the 3/4 cup of granulated sugar at medium speed until fluffy, about 1 minute. Beat in the eggs and the remaining 2 teaspoons of vanilla. At low speed, beat in the flour mixture until just incorporated. Stir in the remaining 2 cups of chocolate chips. Press the cookie dough in the prepared pan in an even layer.
In a bowl, toss the pretzels with the melted butter and the remaining 1 tablespoon of granulated sugar. Spread the melted chocolate mixture over the cookie dough and sprinkle evenly with the pretzels. Bake for about 45 minutes, until set and the pretzel topping is golden brown. Transfer the pan to a rack and let the bars cool completely.
Run the tip of a knife around the side of the pan and lift the bar out using the parchment paper. Cut into 24 bars, discard the parchment paper and serve.
Recipe courtesy Food and Wine.
This recipe was styled by chef Karen Pickus for Good Morning America.
Other Recipes That You Might Like