Tim Tebow's Game Day Filet Mignon
Game Day Grub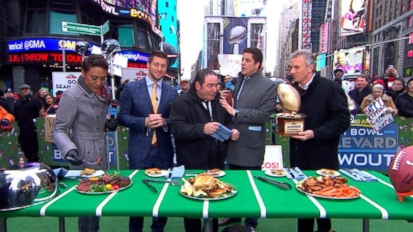 Celebrity chef Emeril Lagasse judges the culinary competition between the two NFL stars.
From the kitchen of Tim Tebow
|
Football players may be on the clock most fall Sundays, but come Super Bowl, most are watching along with the rest of us. And these men know how to eat. Player Tim Tebow shared his ultimate game day grub on "Good Morning America," and you'll want in on this one. Celebrate like the sport's insiders with his recipe for game day filet mignon.
Ingredients
4 tenderloin center cut steaks well trimmed about 1 1/2 " thick each (8 ounces each)
1 cup Dales sauce or homemade substitute marinade sauce (recipe below)
3/4 cup plus 2 tablespoons Zesty Italian Dressing
2 tablespoons Worcestershire Sauce
5 turns of freshly ground Black Pepper
Cooking Directions
Combine all of the ingredients in a bowl with a wire whisk. Place the steaks on a 9x9 inch baking dish. Pour the marinade over the steaks. Cover and refrigerate overnight.
When ready to serve, remove steaks from marinade. Pat dry. Brush with olive oil. Place on hot grill. Grill to desired doneness (125 degrees with an instant read thermometer for medium rare). Let steak rest for 15 to 30 minutes. Slice and serve.
If Dale's Sauce is not available, use this sauce as a substitute:
4 cups soy sauce
1 teaspoon chipotle chili pepper
1 tablespoon freshly grated ginger
1 tablespoon freshly grated garlic
1 tablespoon freshly grated onion
2 pieces star anise
1 teaspoon Chinese five spice powder
Stir ingredients together in a large bowl. Cover and Steep the sauce in the refrigerator overnight. Strain.
Recipe written and developed by Karen Pickus/ Chef Good Morning America 2014
This recipe was styled by chef Karen Pickus for Good Morning America.
Other Recipes That You Might Like