Rachael Ray's Garlicky Beef
A Vampire-Rebelling Entree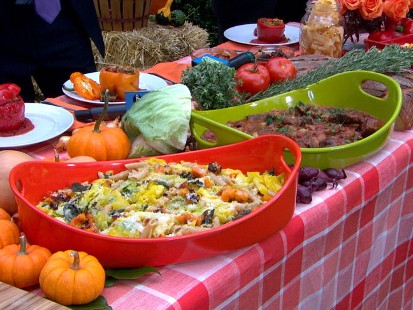 Food Network star shows "GMA" anchors festive recipes timed for Halloween.
From the kitchen of Rachael Ray
|
Celeb chef Rachael Ray has provided hundreds of quick and delicious weeknight dinners over the years, but her new book, "Week In A Day," takes the concept of fast and family-friendly even further, allowing busy cooks to prepare a week's worth of meals in a single day. Try one of these multi-tasking recipes for her Garlicky Beef.
Ingredients
2½ pounds beef chuck, cubed for stew
Kosher salt and coarsely ground pepper
2 tablespoons EVOO or vegetable oil
2 tablespoons butter
1 head garlic, cloves smashed and peeled
1 pound red or yellow pearl onions, peeled (see Heads-up)
2 tablespoons tomato paste
½ cup dry red or white wine
2 cups beef stock
2 (14.5-ounce) cans stewed tomatoes
Chopped fresh flat-leaf parsley, for garnish
Cooking Directions
Preheat the oven to 325°F.
Pat the meat dry and season liberally with salt and pepper. In a Dutch oven, heat the EVOO (2 turns of the pan) over mediumhigh heat. Working in batches, brown the meat evenly all over, then transfer to a plate. Reduce the heat to medium and melt in the butter. Add the garlic and onions, season with salt and pepper, and stir for a few minutes to lightly brown. Stir in the tomato paste and cook for 1 minute. Deglaze the pan with the wine. Add the stock and tomatoes. Return the beef to the pan, cover, and bake until tender, 2 to 2½ hours.
[Make-ahead: Let cool and refrigerate.]
[Night of: Return the beef to room temp before reheating gently over medium heat, stirring frequently, or in a 325°F oven.]
Serve garnished with parsley.
Heads-up: You can often find fresh pearl onions around holiday time, but if you can't, you can thaw a 16-ounce bag of frozen onions. If you're starting with fresh, you have to peel them. Bring a pot of water to a boil. Add the onions and boil for 3 to 4 minutes, then drain and cool. Holding them with the root end facing away from you, pinch the ends of the pearl onions and they should pop right out of their skins.
This recipe was styled by chef Karen Pickus for Good Morning America.
Copyright © 2013 by Rachael Ray from WEEK IN A DAY published by Atria Books, a division of Simon & Schuster, Inc.
Other Recipes That You Might Like