Richard Blais' Grapes on Toast
Fast And Flavorful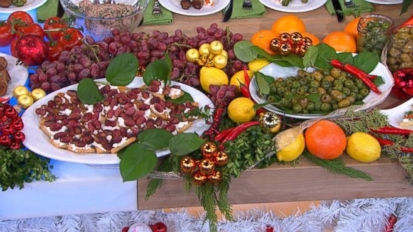 The TV chef shares some delicious recipes for your holiday dinner.
From the kitchen of Richard Blais
|
Still have no idea what you're making for the holidays? Don't worry—Richard Blais stopped by 'Good Morning America' to share easy and flavorful last-minute holiday apps and sides, like this recipe for grapes on toast.
Ingredients
2 cups seedless red grapes
Toast points (as many as needed)
Fresh ricotta
Parsley leaves
Extra virgin olive oil
Cooking Directions
Broil or grill the red grapes until shriveled and smokey.
Simply spread the ricotta on some toasted bread and top with the grilled/broiled grapes. Garnish with parsley.
Recipe courtesy of Richard Blais.
This recipe was styled by chef Karen Pickus for Good Morning America.
Other Recipes That You Might Like