Grasshopper Cookies
Chocolate Cookies with Minty Green Filling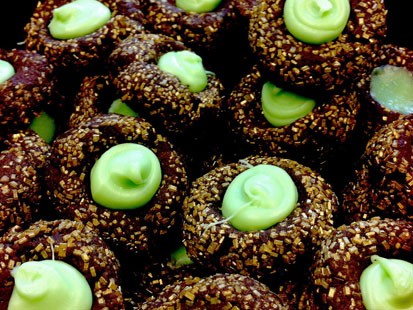 From the kitchen of Lauren Torrisi
|
These cookies are a new take on an old flavor combination. Roll the chocolate dough in sprinkles first to get an extra sparkly treat. Fill with the peppermint filling, or place your favorite piece of chocolate in the center for a double chocolate indulgence. Make sure the cookies are chilled before baking. For more recipes from Lauren, check out her site here.
Ingredients
For the filling:
¼ cup heavy cream
¼ cup green peppermint liquor (or 1 teaspoon green food coloring, 2 teaspoons peppermint extract,and 3 tablespoons cream)
10oz white chocolate
For the cookie:
1 1/3 cup butter, soft
1 cup sugar
2 eggs
½ teaspoon salt
2 2/3 cup flour
2/3 cup cocoa
Gold sanding sugar
Cooking Directions
Cream together the sugar and butter.
Add the eggs, incorporating one at a time.
In a separate bowl, mix together flour, cocoa, and salt.
Chill the dough in the freezer for about 10 minutes. Using a small ice cream scoop, scoop the dough and place on parchment paper. Roll into balls, and then roll in the gold sanding sugar. Refrigerate for 30 minutes.
Using thumb, press a small indentation in the cookie to create space for the filling.
Bake the cookies at 350 degrees for 10-12 minutes. (If the indentation flattens, use the bottom of a ¼ teaspoon to deepen it.)
Let the cookies cool.
Make the filling. In a small saucepan, combine cream, liquor and white chocolate. (If you'd like to replace the liquor, use the optional ingredients listed above.) Turn the burner on low, and stir constantly until melted. Cool the filling.
Pipe or spoon about ½ teaspoon of filling into the center of the cookies.
Other Recipes That You Might Like