Tyler Florence's Grilled Corn on the Cob
This Grilled Corn On the Cob Will Impress Your Guests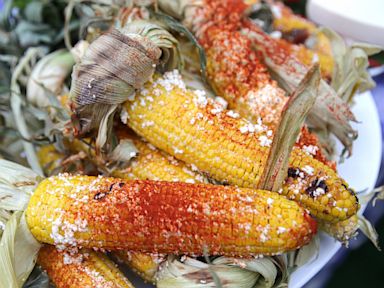 From the kitchen of Tyler Florence
|
Try this recipe for grilled corn on the cob from acclaimed chef Tyler Florence to impress your guests. Florence is the owner of several restaurants and the host of Food Network's "Tyler's Ultimate."
Ingredients
6 ears of corn, with husks and silks still on
½ cup Mayonnaise
½ cup Cotija cheese (salty cow's milk cheese – could substitute with Feta or Parmesan – some type of salty cheese)
Juice from 1 lime
Smoked Pimenton (can substitute cayenne pepper)
Sea Salt
Cooking Directions
Preheat the oven to 375°F. Without peeling back the husk or the silks, place the corn on a sheet pan and roast for 25 minutes. This will produce a deeper corn flavor by cooking the corn with other items that taste like corn. When the corn is done, the husk will look like parchment paper on the outside.
Pull the husks back, but keep them on the cob, and remove the silks. Tie the husks in a knot to create a handle that is attached to the cob. If you want, you can stop here and eat the corn as-is.
Place the corn directly on a heated grill (or grill-pan) to get a little charred flavor and texture. You do not need to add fat to the corn in advance. Once the corn has grill marks, remove it. Using a brush, add mayonnaise to each cob, then crumble the Cotija cheese and press it on with your hands to ensure it sticks. Squeeze the lime juice over the cobs, then dust with smoked pimento and sea salt.
Other Recipes That You Might Like