Michael Symon's Grilled Eggplant with Mozzarella Salad
A Delicious Salad With a Twist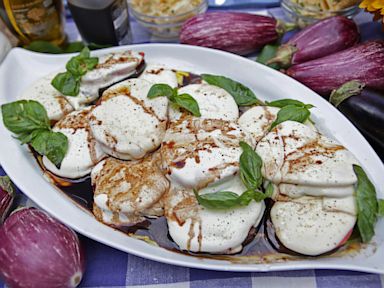 From the kitchen of Michael Symon
|
"The Chew" co-host Michael Symon's new book, "Michael Symon's 5 in 5," shows how to cook a fresh meal in five minutes with only five ingredients. This recipe is a perfect side for a weeknight meal.
Ingredients
1 medium eggplant, cut into ½-inch-thick slices
2 large tomatoes, cut into ¼-inch-thick slices
½ pound fresh mozzarella cheese, cut into ¼-inch-thick slices
¼ cup olive oil
Kosher salt and freshly ground black pepper
1 tablespoon extra-virgin olive oil
1 tablespoon balsamic vinegar
½ cup finely sliced fresh basil leaves
Cooking Directions
1. Preheat a grill or grill pan to medium-high heat.
2. Meanwhile, arrange the eggplant, tomatoes, and mozzarella slices on a platter or baking sheet. Drizzle with the olive oil and season with salt and pepper.
3. Put the eggplant on the grill, cover, and cook until nicely grill marked, about 2 minutes. Flip the eggplant, cover, and cook for 2 minutes. Uncover the grill and top each eggplant with a slice of tomato and a few slices of mozzarella. Cover and cook until the mozzarella is melted, about 1 minute.
4. Remove the eggplant from the grill. Drizzle with the extra-virgin olive oil and vinegar, top with the basil, and serve.
Yield: 6 servings.
Reprinted from the book Michael Symon's 5 in 5. Copyright © 2013 by Michael Symon. Photographs copyright © 2013 by Jennifer May. Published by Clarkson Potter, a division of Random House LLC.
This recipe was styled by chef Karen Pickus for Good Morning America.
Other Recipes That You Might Like