Grilled Marinated Chicken with Watermelon Feta Salad
Healthy and Flavorful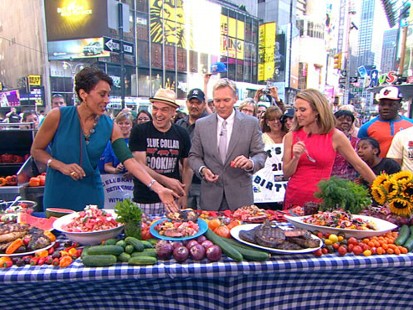 "The Chew" chef whips up some of his favorite summer recipes.
From the kitchen of Michael Symon
|
Ingredients
For the chicken:
6 bone in skin on chicken breast halves
Kosher salt
1 cup Greek yogurt
Grated zest and juice of 1 orange
1 tablespoon coriander seeds, toasted and ground
2 Tsp cumin seeds, toasted and ground
2 Tsp chipotle powder
For the watermelon feta salad:
1/2 small to med seedless watermelon, cubed
1 cup feta crumbled
1/4 cup mint leaves torn
3 scallions sliced
1 clove garlic grated or finely minced
1/4 cup evoo
Pepper to taste
3 tablespoon red wine vinegar
Cooking Directions
Rinse chicken under cold water and pat dry. Season the breasts liberally with salt. In gallon-sized zip-top bag, combine the yogurt, orange zest and juice, salt, coriander, cumin and chipotle powder. Add the chicken, turn and coat, refrigerate for 2 to 4 hours
Let the chicken come to room temp for 30 min before grilling
Meanwhile, heat a charcoal or gas grill to medium
Remove the chicken from the bag, wiping off and discarding excess marinade. Put the chicken on the grill skin side down and cover w the lid. Grill for 7 to 8 minutes, open lid, flip the chicken. Put lid back on and grill for 10 to 12 min until the chicken reaches an internal temp of 160 degrees
Let rest for 10 min before serving
To make salad:
Combine watermelon, mint, feta, garlic, scallions in a bowl. Wisk together red wine vinegar and olive oil. Pour over salad and season w pepper. Toss to coat. Finish w a drizzle of olive oil for garnish.
Recipe courtesy Michael Symon.
This recipe was styled by chef Karen Pickus for Good Morning America.
Other Recipes That You Might Like