Sandra Miller's Grilled Pork Chops
Get Your Grill On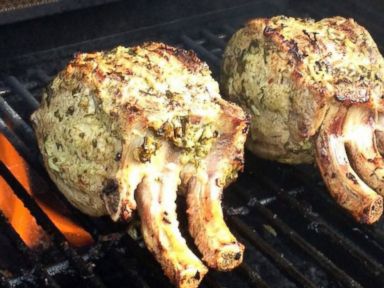 From the kitchen of Sandra Miller
|
We asked viewers for the best grilling dishes and featured the top two on the show, along with Emeril Lagasse's favorite outdoor recipes. Click here to see Emeril's top grilling tips, and try viewer Sandra Miller's winning recipe below for Grilled Pork Chops.
Ingredients
2 double cut pork chops
1/4 to 1/2 cup plain goat cheese (herbed or peppered can work, too)
4 to 5 sundried tomatoes, chopped fine
2 tablespoons fresh oregano, chopped fine (1 tablespoon in filling, 1 for rub/crust)
2 teaspoons fresh thyme, off stems, chop if needed (1 teaspoon for filling, 1 for rub/crust)
1 tablespoon lemon zest (half in rub, half in filling)
1/2 teaspoon red chili pepper flakes
1 to 2 garlic cloves, chopped
Extra virgin olive oil
Salt & pepper, to taste
Cooking Directions
Heat grill to 450 degrees Fahrenheit, all burners high.
Leave butcher string on chops, at the side or non bone end, use a small knife to create a slit/space in the middle of the chop. Don't go through to other side, creating a pocket.
Mix filling, goat cheese, sundried tomatoes, herbs, lemon zest, salt and pepper to taste and cream together. Using a spoon with filling on it, (or use your fingers if easier), slide into pocket area. Don't over fill, but try to use half of filling. Do this for both chops.
Mix together rub, herbs, zest, pepper flakes, garlic, salt and pepper to taste. Rub all over outside of chops. Then rub all over with small amount of olive oil, using your hands.
Put chops on the hot grill for two minutes per side, then move to the cooler side. Leave the other burners going so BBQ is like an oven. Chops will take prob 20 more
minutes to cook because of their thickness. Nice crust should be created and filling may ooze out a little. Let chops rest for 10 minutes before serving.
Other Recipes That You Might Like