Home
>
GMA
>
Recipes Home
>
Mario Batali's Grilled Skirt Steak Sandwich with Charred Corn Mustard
Mario Batali's Grilled Skirt Steak Sandwich with Charred Corn Mustard
Father's Day Food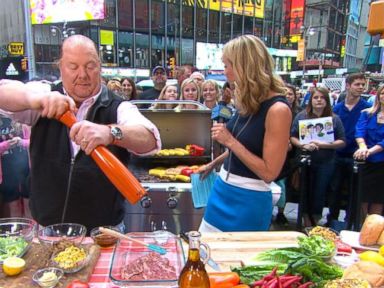 Celebrity chef and some of the world's greatest dads cook up a Father's Day feast.
From the kitchen of Mario Batali
|
It's the big daddy of all grilling holidays this weekend -- or at least the one fathers like best -- and celebrity chef Mario Batali of ABC's "The Chew" stopped by "Good Morning America" to share some tips for grilling for dad. Treat the dad in your life right this Sunday with Mario's recipe for Grilled Skirt Steak Sandwich with Charred Corn Mustard.
Ingredients
For the Skirt Steak:
1 pound Skirt Steak
4 Kaiser Rolls
1 head Romaine Lettuce (thinly sliced)
2 Beefsteak Tomatoes
1 Lemon (juice and zest)
Salt and Freshly Ground Pepper
1/2 cup Extra Virgin Olive Oil (divided uses)
For the Charred Corn Mustard:
2 ears Corn (shucked)
1 Onion (sliced)
1 tablespoon Dijon Mustard
Extra Virgin Olive Oil
Salt and fresh ground pepper
Cooking Directions
For the steak: Heat a grill or grill-pan to medium high heat.
Toss the romaine in 2 tablespoons olive oil and the juice and zest of the lemon.
Place a few slices of the steak onto each of the kaiser rolls. Top with some dressed shredded romaine, a dollop of the corn mustard, a and a slice of beefsteak tomato. Season the sandwiches with salt and pepper and a drizzle of extra virgin olive oil.
For the Charred Corn Mustard: Preheat a grill to medium high. Brush with olive oil. Grill the ears of corn until charred in places, about 5 minutes, rotating throughout the cooking process. Cut the corn off of the cob into a bowl.
In a saute pan over low heat, heat a tablespoon of olive oil. Add the onion, and season with salt and pepper. Cook over low about 20 minutes, until onions are caramelized. Add the caramelized onions to the corn.
Add the dijon mustard to the bowl with the corn and onion, season with salt and freshly ground pepper and mix well.
Recipe courtesy Mario Batali.
Other Recipes That You Might Like