Carla Hall's Grilled Soy-Marinated Short Ribs
Top Chef Tastes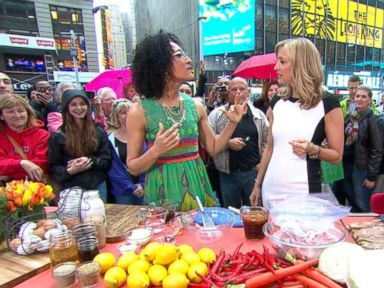 "The Chew" star stops by "GMA" with some delicious cooking tips.
From the kitchen of Carla Hall
|
"The Chew" co-host and former "Top Chef" star Carla Hall knows a thing or two about making food to please a crowd. Take a page from her cookbook "Carla's Comfort Food" and make her recipe for Grilled Soy-Marinated Short Ribs below.
Ingredients
3/4 cup soy sauce
3/4 cup water
3/4 cup minced yellow onion
1/4 cup minced garlic
1/4 cup packed light or dark brown sugar
3 tablespoons cider vinegar
2 teaspoons toasted sesame oil
1 teaspoon freshly ground black pepper
Twenty 1/2-inch-thick flanken-style short ribs (4 1/3 pounds total)
Cooking Directions
In a medium bowl, stir together the soy sauce, water, onion, garlic, brown sugar, vinegar, ses- ame oil, and pepper. Divide the ribs between two gallon-size heavy-duty resealable plastic bags, and then divide the marinade between the bags. Make sure the marinade is evenly distributed among the ribs. Seal tightly and refrigerate for at least 6 hours and up to overnight.
Prepare an outdoor grill for high-heat grilling (charcoal will make the tastiest ribs!), or heat a cast-iron skillet over medium-high heat. For both, cook the ribs, turning once, until nicely browned on both sides, about 5 minutes total.
Recipe courtesy Carla Hall with Genevieve Ko.
Other Recipes That You Might Like