Justin O'Connor's Guinness Marinated Corned Beef
St. Patrick's Day Food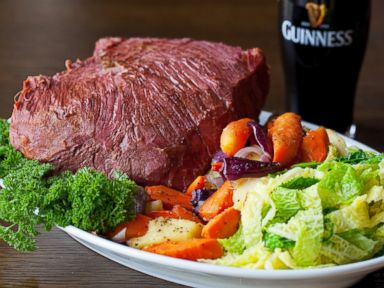 From the kitchen of Justin O'Connor
|
It's pretty safe to say the the Guinness Storehouse executive chef knows how to cook Irish specialties using the stout beer. Celebrate St. Patrick's Day this year with chef Justin O'Connor's recipe for Guinness Marinated Corned Beef.
Ingredients
3 lbs of corned beef soaked in pint Guinness overnight
1 onion chopped
5 cloves
3 bay leaves
9 – 10 black peppercorns
1 head of Savoy cabbage
2 lbs peeled potatoes
2/3 cup butter
1 1/2 cup cream
3 sliced spring onion
Cooking Directions
Place the beef and Guinness into a pot and cover with cold water. Add onion, cloves, bay leaves and peppercorns. Cook for 2 – 2 1/2 hrs or until tender.
Cook the potatoes in salted water, drain and mash. Add half the butter, half the cream and spring onion. Season potato to taste.
Boil the sliced cabbage in salted water for 5 minutes and drain. Add a knob of butter and season. Take 1/2 cup of the reserved cabbage cooking stock and place in a pot, add the rest of the cream and simmer for 2 minutes whisking in the rest of the butter.
To serve: Carve the corned beef onto a plate with a scoop of champ potato, boiled cabbage and finish with the cream sauce.
Recipe courtesy Guinness Storehouse.
Other Recipes That You Might Like