Guy Fieri's Dragon's Breath Chili
Try This Crowd-Pleasing, Fiery Dish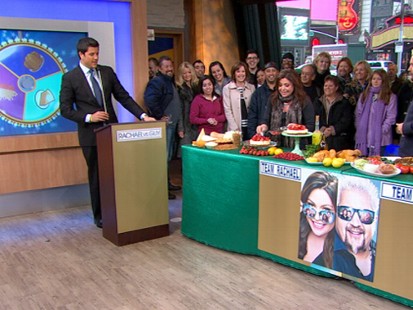 Stars of Food Network's "Celebrity Cook Off" go head-to-head, answering popular cooking queries.
From the kitchen of Guy Fieri
|
Guy Fieri knows chili. Try this spicy version for your next gathering.
Ingredients
2 tablespoons butter
3 tablespoons bacon grease, or canola oil
2 red bell peppers, diced (about 2 cups)
2 jalapenos, minced (about 2 tablespoons)
3 Anaheim chiles, roasted, peeled, chopped
3 poblano chiles, roasted, peeled, chopped
2 yellow onions, diced (about 2 cups)
1 head garlic, minced (about 1/4 cup)
1 pound boneless chuck, trimmed and cut into 1/4-inch cubes
2 pounds ground beef, coarse grind
1 pound bulk Italian sausage
2 teaspoons granulated onion
2 teaspoons granulated garlic
3 tablespoons chili powder
2 teaspoons hot paprika
2 teaspoons ground cumin
2 teaspoons ground coriander
2 teaspoons cayenne pepper
2 teaspoons kosher salt
2 teaspoons freshly ground black pepper
2 cups tomato sauce
1 cup tomato paste
12 ounces lager beer
1 cup chicken stock
2 (15.5-ounce) cans pinto beans, with juice
2 (15.5-ounce) cans kidney beans, with juice
Double-Fried French Fries, recipe follows
1 bunch green onions, thinly sliced
1 cup shredded Cheddar
Cooking Directions
In large stock pot over high heat, add butter and bacon grease.
Add bell pepper, jalapeno, chiles and onion and cook until caramelized, about 5 minutes. Add garlic and saute a minute longer. Add chuck and brown. Add ground beef and sausage to brown and stir gently, trying not to break up the ground beef too much.
Cook until meat is nicely browned and cooked through, about 7 to10 minutes.
Add in granulated onions, granulated garlic, chili powder, paprika, cumin, coriander, cayenne, salt and pepper and cook for 1 minute.
Add in tomato sauce and paste and stir for 2 minutes. Stir in beer and chicken stock.
Add beans, lower heat and simmer for 2 hours.
Serve in bowls and garnish with Saltine crackers, green onions and shredded Cheddar.
Yields: 10 to 15 servings
Original recipe courtesy Guy Fieri
This recipe was styled by chef Karen Pickus for Good Morning America.
Other Recipes That You Might Like