Home
>
GMA
>
Recipes Home
>
Hallie Klecker's Gluten-Free No-Crust Pumpkin Pie with Chocolate Drizzle
Hallie Klecker's Gluten-Free No-Crust Pumpkin Pie with Chocolate Drizzle
Try This Gluten-Free Take on a Classic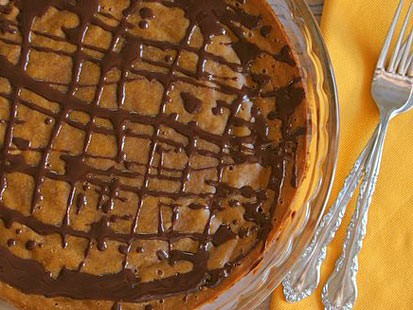 From the kitchen of Hallie Klecker
|
My friend inspired me to make this crust-free version of pumpkin pie for the holidays. I added an easy chocolate drizzle on top, because to me everything's better with a little chocolate.
Check out Hallie's blog, Daily Bites.
Ingredients
2 large eggs
1 (15-ounce) can pumpkin puree (not pumpkin pie filling)
2/3 cup coconut sugar (also called palm sugar)
1 cup canned coconut milk (full fat)
2 tablespoons arrowroot starch
2 tablespoons brown rice flour
2 teaspoons ground cinnamon
½ teaspoon ground ginger
½ teaspoon sea salt
Pinch of ground cardamom
1 ounce unsweetened chocolate, roughly chopped
1 tablespoon agave nectar
1 tablespoon virgin coconut oil, plus extra for greasing the pan
Cooking Directions
Preheat the oven to 425°F. Lightly oil a 9-inch pie plate with coconut oil.
In a large bowl, whisk the eggs to blend lightly. Add the pumpkin, coconut sugar, and coconut milk. Whisk to blend well. Whisk in the remaining ingredients, making sure there are no lumps. Pour the batter into the oiled pie plate. Place the pie plate on a rimmed baking sheet and transfer to the oven.
Bake for 15 minutes. Reduce the oven temperature to 350°F and continue baking until a toothpick inserted into the center of the pie comes out clean, 45-50 minutes. Set aside to cool slightly.
In a small pot over very low heat, melt together the chocolate, coconut oil, and agave nectar until smooth. Using a teaspoon, drizzle some the chocolate mixture over the top of the pumpkin pie. (You will not use all of it.)
Cool the pie to room temperature, then cover and refrigerate for at least 3 hours before serving. Store leftovers, covered, in the refrigerator for up to 2 days.
Recipe courtesy of Hallie Klecker, author of "The Pure Kitchen."
Other Recipes That You Might Like