David Myers' Heirloom Roasted Carrots with Honey Lavender Butter
An Elegant Side Dish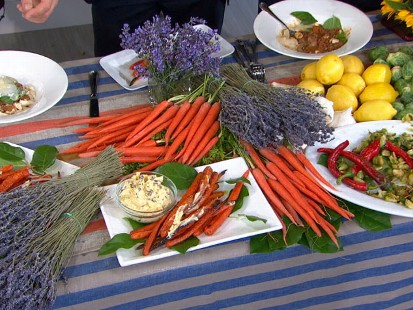 Chef Myers shows the "GMA" co-anchors the best autumn recipes to wow a crowd.
From the kitchen of David Myers
|
David Myers, executive chef at Comme Ça in The Cosmopolitan of Las Vegas, shares his Sin City-worthy favorite recipes. Check out his heirloom roasted carrots with honey lavender butter recipe here.
Ingredients
1 pound of peeled and washed heirloom carrots
Extra virgin olive oil
Sea salt and black pepper
2 pounds butter
1 tablespoon lavender
1 cup honey
Cooking Directions
For the butter: In a blender, add 2 pounds of soft butter, 1 cup of honey, 1 tablespoon of lavender, and sea salt. Blend until combined.
For the carrots: Pre-heat a sauté pan. Toss carrots in a bowl with olive oil, salt and pepper. Add the carrots to the sauté pan and roast until cooked and nice color is achieved. Finish carrots with the honey lavender butter and serve.
Recipe courtesy of Chef David Myers, available at Comme Ca at The Cosmopolitan of Las Vegas.
This recipe was styled by chef Karen Pickus for Good Morning America.
Other Recipes That You Might Like