Holstein's Luck of the Irish Burger
A Burger With an Irish Twist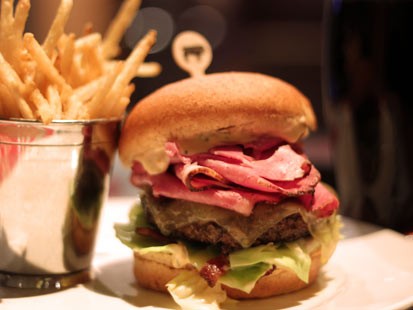 From the kitchen of Holstein's
|
You can grab this burger at Holsteins Shakes and Buns located inside The Cosmopolitan of Las Vegas. The speciality burger will be offered on St. Patrick's Day only. This 8oz beef patty is topped with shaved corned beer, Swiss cheese, braised "green" cabbage and Russian dressing and served on a Marble Rye bun with french fries.
Ingredients
For the burger:
1 ea 8oz beef hamburger patty
1 ea 4inch Rye hamburger bun
1 Tbsp Russian dressing
½ cup braised green cabbage (see recipe)
2 slice Swiss cheese
3 oz sliced corned beef
For the braised cabbage:
1 head green cabbage, 1 in dice
4 slices smoked bacon, small diced
½ white onion julienned
½ cup apple cider vinegar
½ cup brown sugar
1 tsp caraway seeds
Salt and pepper to taste
Cooking Directions
For the burger:
Preheat char grill to high temperature. Season hamburger patty with salt and black pepper and grill over high heat until cooked to desired temperature. In small sauté pan over medium heat, warm braised cabbage and corned beef. Place Swiss cheese on burger patty and allow to melt. Dress Rye bun with Russian dressing and top with hamburger. Top the burger with cabbage and corned beef and place top of bun. Enjoy!
For the braised cabbage:
In large skillet over medium heat, add bacon and allow fat to render and bacon to become crisp. Add onions and allow to sweat. Once onions become translucent add cabbage and allow to sweat. Once cabbage is limp, add remainder of ingredients and allow to simmer for 15 minutes. Season with salt and pepper and set aside for service.
Recipe courtesy Holstein's.
Other Recipes That You Might Like