Emeril Lagasse's Homemade Bagel Chips with a Hot Sausage Dip
Recipe Makeover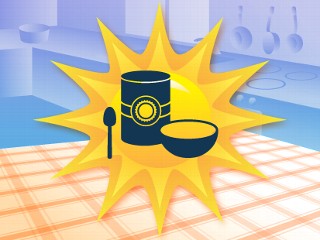 From the kitchen of Emeril Lagasse
|
Recipe fatigue is a common epidemic that infects every kitchen from time to time. Luckily, celebrity chef Emeril Lagasse has just the cure. He turned a breakfast bagel into Homemade Bagel Chips with a Hot Sausage Dip.
Ingredients
3 plain bagels
Olive oil
Salt and freshly ground black pepper
Creole seasoning or other seasoning blend
1/2 pound sausage, removed from casings if fresh or coarsely chopped if smoked or precooked
1 small onion, finely chopped
1 cup chopped canned tomatoes, salsa, or Rotel tomatoes (drained and juices reserved)
8 ounces cream cheese, softened
1/4 cup mayonnaise, sour cream, or plain yogurt
1/4 teaspoon crushed red pepper
Salt, to taste
Paprika or cayenne pepper, for garnishing dip, optional
Cooking Directions
Preheat the oven to 325°F.
Cut the bagels into thin rounds between ¼ and 1/8 inch thick. Place them in one even layer on a baking sheet and brush lightly with the olive oil on both sides. Sprinkle lightly with salt and pepper and with Creole seasoning to taste. Transfer to the oven and cook until the chips are golden and completely crisp, 12 to 20 minutes depending on the freshness of your bagels. Remove from the oven and transfer to cooling racks to cool.
While the chips are cooking, make the hot dip. In a medium nonstick skillet over medium heat, add 1 tablespoon of the olive oil and add the sausage and onion. Cook, stirring occasionally, until the meat is cooked through and the onion is softened. Stir in the tomatoes and crushed red pepper and cook, stirring, for 5 minutes. Remove from the heat and stir in the cream cheese and mayonnaise. Season with salt to taste. If the dip seems too thick, you can add some of the reserved tomato juices to thin. Serve the bagel chips with the warm dip, sprinkled with paprika or cayenne pepper, if desired.
Recipe courtesy Chef Emeril Lagasse, copyright MSLO, Inc., all rights reserved. Styled by Karen Pickus for Good Morning America.
Other Recipes That You Might Like