MetLife Stadium's Hot Corned Beef Hoagie
Game Day Grub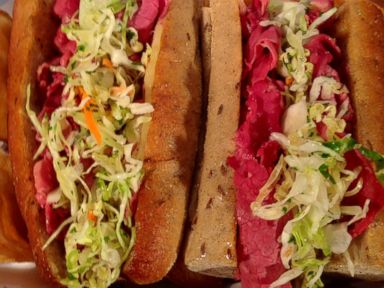 From the kitchen of MetLife Stadium
|
New Jersey's pulling out all the stops to host Super Bowl XLVII, from the field to festivities to the food at MetLife Stadium. Vendors created all-new gourmet menu items for the big day, like this hot corned beef hoagie. Can't make it to the game, like most of us? Don't worry—we've got the recipe here.
Ingredients
1/3 pound Deli Corned Beef, very thinly sliced
1 tablespoon Vegetable Oil
2 tablespoons Russian Dressing
4 slices Swiss Cheese, thinly sliced
¼ cup Cole Slaw (You can use your favorite recipe or buy straight from your deli)
8" Long Rye Hoagie Roll, if available (You can always substitute your standard Jewish Rye Bread and make a few sandwiches)
Cooking Directions
Slice open the hoagie roll, lengthwise, but not quite all the way. Spread Russian dressing along inside of the roll. Lay out the swiss cheese on the inside of the split roll, as well, filling the length of the roll.
In a sauté pan over medium-high heat, add the vegetable oil to the pan and heat until almost smoking. At that point, add the corned beef to the pan and cook until hot, and the corned beef browns slightly.
Place hot corned beef inside the sub and top with the cole slaw.
Recipe courtesy MetLife Stadium.
Other Recipes That You Might Like