Hungry Girl's Mocha-Coco Swappuccino
Swap Out Your High-Fat Version for This Low-Cal One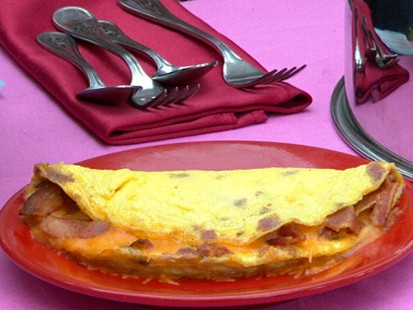 "Hungry Girl" Lisa Lillien reveals her lo-cal, low-fat variations of classic morning meals.
From the kitchen of Lisa Lillien
|
HG's Mocha-Coco Swappuccino (120 calories, 4.5g fat)
Average frozen mocha coconut coffee drink (450 calories, 14g fat)
Chocolate chips, coconut, coffee...creamer....light chocolate syrup -- fat free whipped cream...
Ingredients
2 tsp. shredded sweetened coconut, roughly chopped
2 tbsp. unsweetened cocoa powder
1 tbsp. fat-free non-dairy powdered creamer
1 tsp. instant coffee granules
1 tsp. mini semi-sweet chocolate chips
2 no-calorie sweetener packets, or more to taste
1/8 tsp. coconut extract
2 cups crushed ice or 10 to 16 ice cubes
2 tbsp. Fat Free Reddi-wip
1 tsp. light chocolate syrup
Cooking Directions
In a skillet over medium heat, cook and stir chopped coconut until lightly browned, about 2 minutes.
In a tall glass, combine cocoa powder, creamer, coffee granules, chocolate chips, and sweetener. Add 1/2 cup very hot water, and stir until mostly dissolved.
Stir in coconut extract and transfer mixture to a blender. Add ice and blend at high speed until smooth.
Pour, top with Reddi-wip, and drizzle with chocolate syrup. Sprinkle with lightly browned coconut and enjoy!
Entire recipe: 120 calories, 4.5g fat, 24mg sodium, 21g carbs, 4g fiber, 8g sugars, 2.5g protein
Recipe courtesy Lisa Lillien.
This recipe was styled by chef Karen Pickus for Good Morning America.
Other Recipes That You Might Like