Katie Lee's Brie and Chutney Toasts
A Bite Sized Snack for Your Oscar Party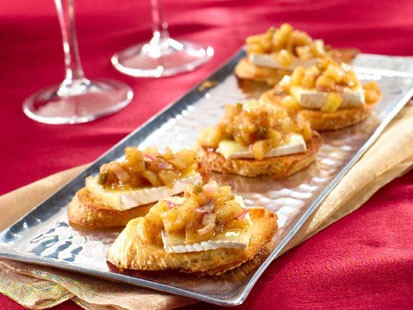 From the kitchen of Katie Lee
|
Casual entertaining expert Katie Lee has cooked up some of her favorite Oscar party snacks. Make this for your at-home viewing party!
Ingredients
For the chutney:
1/4 cup orange juice
1/4 cup water
3 Tbsp. firmly packed brown sugar
3 Tbsp. apple cider vinegar
1/2 tsp. cinnamon
1/2 tsp. Kosher salt
1/4 tsp. freshly ground black pepper
2 tsp. I Can't Believe It's Not Butter!® Spread
2 shallots, minced
1/2 jalapeno pepper, seeded and minced
1 clove garlic, minced
2 Granny Smith apples, peeled, cored and diced
For the toasts:
32 slices French bread
1/4 cup I Can't Believe It's Not Butter!® Spread
16 oz. Brie cheese, cut in 32 pieces
Cooking Directions
For Chutney: in small bowl, combine orange juice, water, brown sugar, vinegar, cinnamon, salt and pepper; set aside.
Melt I Can't Believe It's Not Butter!® Spread in medium saucepan over medium heat. Add shallots, jalapeno and garlic and cook over medium heat, stirring occasionally, until shallots are tender, about 5 minutes. Stir in apples and orange juice mixture and bring to a simmer. Cover and cook over medium-low heat, stirring occasionally, until apples are tender, about 8 to 10 minutes. Remove from heat and let cool.
For Toasts: Preheat broiler. Spread bread with I Can't Believe It's Not Butter!® Spread and place on baking sheet. Broil until golden. Remove from oven and top with each piece with piece of brie. Broil, watching closely, until cheese begins to melt, about 30 seconds to 1 minute.
Top each with about 1 tablespoon Chutney. Sprinkle with salt and pepper to taste.
Tip: Leftover Chutney is delicious on roasted or grilled chicken or pork.
Recipe courtesy Katie Lee and I Can't Believe It's Not Butter!®
Other Recipes That You Might Like