Kelsey Nixon's Hot Roasted Red Pepper & Spinach Argo-choke Dip
Serve With Homemade Pita Chips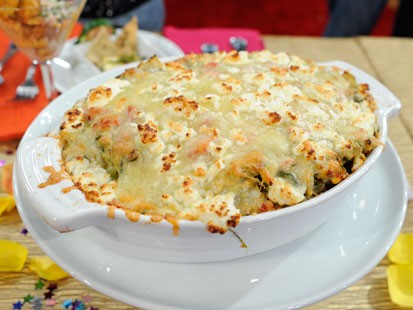 From the kitchen of Kelsey Nixon
|
Try this roasted red pepper and spinach artichoke dip recipe inspired by the movie "Argo."
Ingredients
1 (10 oz,.) box frozen spinach, thawed & drained
3 (9-ounce) boxes frozen artichokes, thawed, drained & chopped
½ cup mayonnaise
¼ cup sour cream
4 ounces cream cheese, softened
1 tablespoon harissa
1 ½ teaspoons lemon zest
1 1/3 cups grated Parmesan cheese, divided
1/3 cup roasted red peppers, diced
2 garlic cloves, minced
1 cup shredded white cheddar cheese
¾ cup feta cheese, crumbled
Za'atar Pita chips, for serving- recipe follows
For the chips:
3 tablespoons za'atar
4 tablespoons extra virgin olive oil
2 large pitas
Cooking Directions
Preheat oven to 375 degrees F.
In a large mixing bowl, combine the drained spinach, artichokes, mayonnaise, sour cream, cream cheese, harissa, lemon zest, 1 cup of Parmesan cheese, roasted red peppers, and garlic. Mix completely and spread evenly in a shallow 1-quart baking dish. Top with shredded cheddar, feta cheese, and the remaining Parmesan cheese.
Bake for 25 to 30 minutes until bubbling and the top is brown in spots. Serve warm with the baked pita chips.
For the pita chips:
Preheat oven to 350 degrees F. Combine za'atar and olive oil in a small bowl to form a paste. Cut pitas open around the edges to create four rounds. Place pita rounds on baking sheet and spread evenly with za'atar mixture. Bake for 5-7 minutes or until pita is golden brown and crispy. Cool slightly and cut into wedges.
Recipe courtesy Kelsey Nixon.
This recipe was styled by chef Karen Pickus for Good Morning America.
Other Recipes That You Might Like