Key Lime Pie
Learn How to Make the Award-Winning Dessert From The Key Lime Pie Co.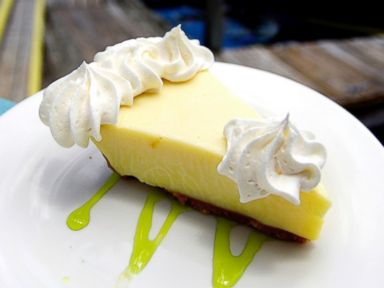 From the kitchen of Key Lime Pie Co.
|
"Good Morning America's" Ginger Zee took a trip down to Key West, Fla., and sent some of their famous Key Lime pie to the Times Square studio for the rest of the gang to enjoy. Check out this recipe to make a version of the Key Lime pie for yourself at home.
Ingredients
For the Graham Crust:
6 oz of graham cracker
2 oz brown sugar, light or dark your choice. (Dark has more molasses)
Dash of cinnamon
6 tbsp melted unsalted butter
Small Pinch of salt
For the Filling:
28 oz of sweetened condensed milk/ 2-14oz cans
1 cup whipped cream + 1 cup for topping set aside
4 oz 100% Key Lime juice, never use a blend.
Zest of one Key Lime
Cooking Directions
Mix all ingredients for the Graham Crust until blended.
In a non greased 9" pie pan evenly spread crumbs until bottom and sides are covered.
Refrigerate for 15 minutes to help set up.
For the filling, blend milk and whipped cream until smooth. (Note: Mixing on a higher speed will help with the fluffiness. Not too high or you'll get filling on you!)
On low speed, slowly add Key Lime juice until all incorporated. Stop mixing.
Pour filling in your chilled crust.
Return to fridge for overnight cooling to help pie set up firm.
Using last one cup of whipped cream, take a spoon and place dollops around the border. Sprinkle zest evenly around the pie. This will give it an added zing in each bite. Enjoy a Key West tradition!
Recipe courtesy Key West Key Lime Pie Co.
Other Recipes That You Might Like