Kicked-Up Snickerdoodles
Who Can Just Have One Cookie?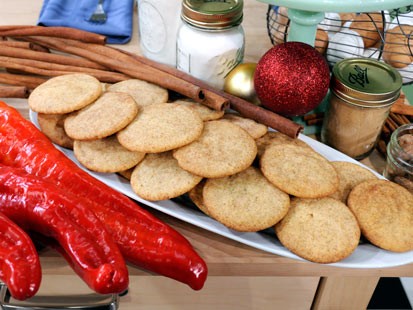 From the kitchen of Emeril Lagasse
|
Easy cookies to make for loved ones this holiday season!
Ingredients
2 3/4 cups all-purpose flour
1 teaspoon baking soda
1/2 teaspoon salt
1/2 cup solid vegetable shortening, at room temperature
8 tablespoons (1 stick) unsalted butter, at room temperature
1 1/2 cups plus 5 tablespoons sugar
2 large eggs
1 tablespoon ground cinnamon
1/4 teaspoon cayenne pepper
Cooking Directions
Preheat the oven to 350°F.
Sift the flour, baking soda, and salt together into a bowl and set aside.
In a separate medium mixing bowl, using a handheld or standing electric mixer, combine the shortening and butter and beat until smooth. Add 1 1/2 cups plus 2 tablespoons of the sugar, and continue beating until light and fluffy, about 3 minutes. Add the eggs, one at a time, beating well after each addition. Add the sifted flour mixture and mix until the dough just comes together.
Combine the remaining 3 tablespoons sugar with the cinnamon and cayenne in a small bowl.
Divide the dough into 1 1/2 tablespoon portions and roll them between your hands to form 1 1/2-inch balls. Roll the balls in the spiced sugar. Then divide them evenly among two unlined cookie sheets, spacing them about 1 inch apart. Flatten the balls into 1/2-inch-thick disks.
Bake, rotating the sheets back to front midway, until the edges of the cookies are golden brown, 12 to 14 minutes. Let the cookies cool on the baking sheets on wire racks.
Yield: About 30 cookies
* Recipe courtesy Emeril Lagasse, Emeril's 20-40-60, Harper Studio Publisher, New York, 2009, courtesy MSLO, Inc.
Other Recipes That You Might Like