MetLife Stadium's The 'Kitchen Sink'
Game Day Grub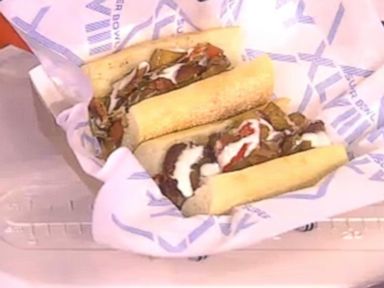 From the kitchen of MetLife Stadium
|
New Jersey's pulling out all the stops to host Super Bowl XLVII, from the field to festivities to the food at MetLife Stadium. Vendors created all-new gourmet menu items for the big day, like this sausage sandwich. Can't make it to the game, like most of us? Don't worry—we've got the recipe here.
Ingredients
1 Link Chicken Sausage
1 Link Sweet Italian Sausage
2 Links Hot Dogs
2 tablespoons Vegetable Oil
1 Red Pepper, julienned
½ Onion, Julienned
1 Baked Potato, cooled and cubed
4 cups Baby Spinach
¼ cup Banana Pepper Rings
6 ounces Red Wine Ranch Sauce (see recipe below)
3 each 8" Hoagie Rolls
Cooking Directions
In a large sauté pan over medium heat, oil until hot. Sear sausages and hot dogs on all sides until golden brown, and cooked through. Set aside and allow to cool completely.
Once cooled, slice the sausages and hot dogs into coins.
In the same pan using the residual grease, heat over medium high heat and add in potatoes, pan-frying until golden brown, seasoning to taste with salt and pepper.
In the same pan as before, heat again over medium high heat and sauté the peppers and onions until soft and lightly browned. Return the coined sausages, hot dogs, and potatoes to the pan and cook until hot.
Add in baby spinach and quickly cook until it wilts down.
Split the hoagie rolls lengthwise, not quite cutting all the way through.
Divide the sausage mixture evenly between the three rolls, topping with the red wine ranch sauce and banana pepper rings.
Red Wine Ranch Sauce:
5 ounces Ranch Dressing
1 ounce Red Wine Vinegar
2 cloves Garlic, minced
1 teaspoon thyme, minced
Whisk together all ingredients in a bowl. Place in a squeeze bottle for use.
Recipes courtesy MetLife Stadium.
Other Recipes That You Might Like