Laura's Grilled Pound Cake with Mixed Berries
Dessert Gets a Barbecue Twist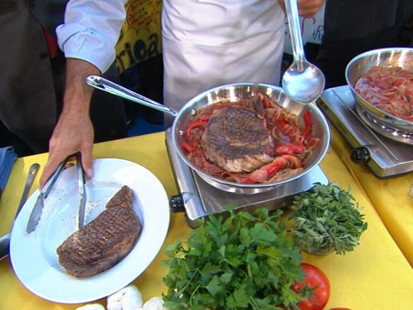 The New York restaurateur is releasing a new cookbook, "Rao's on the Grill."
From the kitchen of Frank Pellegrino
|
This is one of the easiest of all summer desserts. With fresh seasonal berries as the star attraction, it never fails to please, and topped with a dollop of white whipped cream, it has all of the colors and elements of a Fourth of July treat. Make the compote a few hours before serving so the berries can give off some juices.
Ingredients
For the Berry Compote:
1/2 cup sugar
1 (6-ounce) basket fresh raspberries
1 (6-ounce) basket fresh blueberries
1 (6-ounce) basket fresh blackberries
1 pint fresh strawberries, hulled and quartered
For the pound cake:
1 store-bought pound cake, cut into six 1 1/2-inch slices
3 tablespoons unsalted butter, well softened
Whipped cream for serving (optional)
Cooking Directions
To make the berry compote, bring the sugar and 1/2 cup water to a boil in a small saucepan over high heat, stirring to dissolve the sugar. Let the syrup cool.
Combine the raspberries, blueberries, blackberries, and strawberries and stir in enough of the syrup to sweeten the berries to taste. Cover and refrigerate for at least 2 hours and up to 8 hours.
Prepare an outdoor grill for direct cooking over medium-low heat (350 degrees F).
Brush the cooking grate clean and lightly oil the grate. Spread the butter over both sides of the pound cake slices. Place the cake slices on the grill. Cook, with the lid closed as much as possible, turning once, until lightly browned on both sides, about 4 minutes.
For each serving, place a cake slice on a plate and top with the berries and their juices. Add a dollop of whipped cream, if desired. Serve immediately.
From Rao's On the Grill by Frank Pellegrino, Jr.
This recipe was styled by chef Karen Pickus for Good Morning America.
Other Recipes That You Might Like