Laurence Edelman's Pickled Beets
A Pretty Addition to Your Chanukkah Table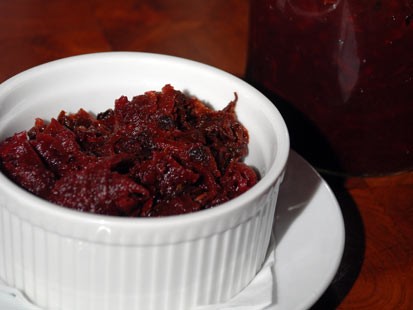 From the kitchen of Laurence Edelman
|
In celebration of Chanukkah, Jewish chef Laurence Edelman of West Village hotspot Left Bank has created a great pickled beet recipe. Laurence serves the grated pickled beets alone as a snack, and even on potato pancakes with a dollop of crème fraiche.
For more information on Left Bank in Manhattan, click here.
Ingredients
2 1/2 pounds beets
3 tablespoons sea salt
1/2 teaspoon juniper seeds
1/2 teaspoon fennel seeds
2 cardamom pods
2 star anise pods
Cooking Directions
Grate beets into mixing bowl, and mix in the ingredients, squeezing the beets repeatedly to accelerate the process. Pack tightly into some ceramic or glass container, letting the natural beet water rise above the grated beets. Use a clean dish to weigh the grated beets beneath what is now a brine. Wrap the top of the ceramic crock with cheesecloth. Let the beets ferment for 3 days. Will keep in fridge for about a month.
Recipe courtesy Laurence Edelman.
Other Recipes That You Might Like