Laurent Tourondel's 'Elvis' Sandwich
Not Your Average Sandwich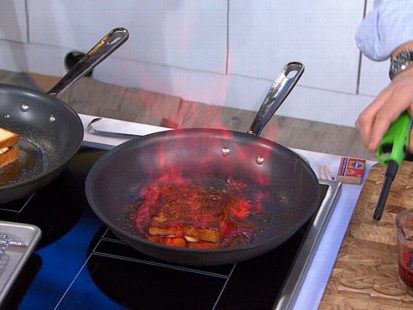 Arlington Club chef shows Josh Elliott how to make his delicious Nutella breakfast.
From the kitchen of Laurent Tourondel
|
Try this decadent sandwich from chef Laurent Tourondel.
Ingredients
For the French toast base:
2 1/4 cups heavy cream
1 1/2 cups milk
1 1/2 teaspoons vanilla extract
3/4 cups sugar
3 whole eggs + 2 egg yolks
2 1/2 tablespoons orange blossom water
2 1/2 tablespoons bourbon
2 teaspoons dried orange zest
For the rest of the dish:
Brioche Pullman Loaf, cut into 12, 1/2-inch thick slices
1 1/2 cup Nutella
2 bananas, thinly sliced
1 1/2 cup clarified butter
1 cup sugar
3/4 cup Myers Rum
Confectionary sugar, for garnish
Cooking Directions
Make the French toast base Combine all ingredients in a medium size mixing bowl, and whisk until fully incorporated. Set aside.
Make the sandwiches Place 6 slices of brioche in a single layer on a baking sheet. Evenly spread 4 tablespoons of nutella over each slice and top with enough sliced banana to cover completely. Top each piece of brioche with remaining brioche to form the "Elvis" sandwich.
Carefully soak each brioche sandwich in the French toast base for 5 seconds on each side and transfer to a dripping rack.
Heat a large nonstick saute pan over medium heat. Coat the bottom of the pan with ¼ cup of clarified butter. Evenly sprinkle the sugar into the clarified butter, enough to cover the bottom of pan, about 3-4 tablespoons. Allow the sugar to cook until fully incorporated and mixture becomes fluid, about one minute. Place enough sandwiches in 1 even layer into the pan, continuously moving so they do not burn. Once dark and golden brown in color (about 4-5 minutes) flip and continue to cook until cook both sides are golden brown in color.
Once sandwiches have cooked through, carefully flambe with 2 tablespoons of Myers rum.
Remove sandwiches from pan. Repeat with remaining sandwiches. Slice in half and garnish with confectionary sugar.
Recipe courtesy of Laurent Tourondel.
This recipe was styled by chef Karen Pickus for Good Morning America.
Other Recipes That You Might Like