Laurent Tourondel's Maine Blueberry Pancakes
A Gourmet Way to Start Your Day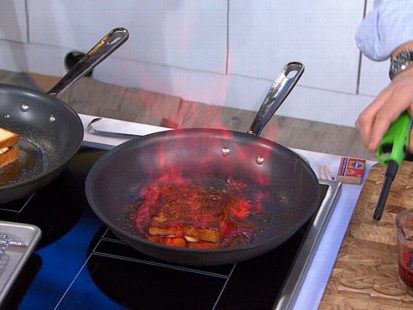 Arlington Club chef shows Josh Elliott how to make his delicious Nutella breakfast.
From the kitchen of Laurent Tourondel
|
Try these Maine blueberry pancakes with orange blossom maple syrup from chef Laurent Tourondel.
Ingredients
For the syrup:
1 cup Mapleland Farms maple syrup
1 tablespoon orange blossom water
For the pancakes:
1 cup milk
2 eggs
2 tablespoons vegetable oil
1 stick (4 ounces) unsalted butter, melted and slightly cooled + 3 tablespoons softened for cooking
1 cup all purpose flour
2 tablespoons baking powder
4 teaspoons sugar
1 teaspoon salt
1 ½ cup Maine blueberries
Cooking Directions
Make syrup Whisk together the maple syrup & orange blossom water and set aside until ready to serve.
Make Batter Whisk milk, eggs, and oil in a medium bowl until fully incorporated. Slowly whisk in the melted butter making sure not to cook the eggs. In a medium size bowl, whisk together flour, baking powder, sugar and salt. Whisk egg mixture into the flour until just combined. Be careful not to over mix or the batter will break.
Cook the pancakes Heat a griddle or large non-stick pan over medium heat and brush the surface with 1 tablespoon of the softened butter. Ladle ¼ cup of batter per pancake into the pan. Cook for 2 minutes and just before flipping the pancakes evenly sprinkle the fresh blueberries over the top. Flip the pancakes and continue to cook until brown and cooked through, about 2 minutes. Repeat with remaining butter and batter. Serve immediately with warm orange blossom maple syrup on the side
Recipe courtesy of Laurent Tourondel.
This recipe was styled by chef Karen Pickus for Good Morning America.
Other Recipes That You Might Like