Rachael Ray's 7-Layer Hot Dog
Hot dogs dressed up so many ways!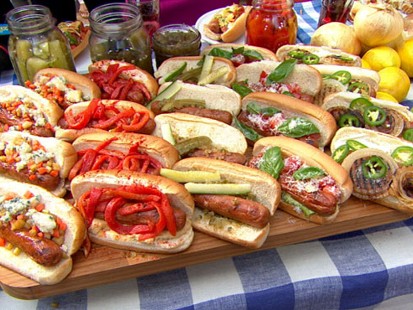 TV chef prepares four separate hot dogs along with her frutti di bosco cooler.
From the kitchen of Rachael Ray
|
Kick up your next get-together with these dressed-up hot dogs. First, try the 7-layer approach, then go for some of the other preparations -- including the Pastrami Reuben dog and the Seattle dog.
Ingredients
1 cup canned spicy vegetarian refried beans
Half palmful ground cumin
4 Jumbo hot dogs (butterflied open only if crisping on griddle)
(Cooking Spray, if crisping)
4 good quality hot dog buns
1/2 cup shredded cheddar cheese
1/2 cup shredded pepper jack cheese
1 cup corn chips, such as Fritos, lightly crushed
1 cup crema
Guacamole
1/2 small red onion, finely chopped
Juice of 1 lemon
Juice of 1 lime
Salt
2 avocados
1 large jalapeño chile, seeded and finely chopped
Small handful of cilantro leaves, finely chopped
1 large or 2 medium cloves garlic, pasted or grated
Pico de Gallo
2 to 3 plum tomatoes, seeded and diced
1/2 small red onion, finely chopped
1/2 jalapeno chile, minced
A couple tablespoons fresh cilantro leaves, finely chopped
1 lime, zested and juiced
Salt and pepper
Cooking Directions
Make the Guacamole: In a medium bowl, douse the onion with the citrus juices. Salt liberally and let stand 10 minutes. Scoop the avocado flesh into the bowl. Add the jalapeno, cilantro, and garlic and mash with a fork until fairly smooth. Adjust the salt.
Make the Pico de Gallo: In a small bowl, add the plum tomatoes, onion, chile,cilantro, lime juice and zest and season with salt and pepper.
Make the Hot Dogs Place a medium pot of water over high heat and bring to a simmer. Turn heat to low, add hot dogs and cook until heated through. This will only take a few minutes. If crisping the dogs, place a grill or skillet over medium high heat and spray with cooking spray. Add the hot dogs cut side down first to the pan and cook until crisp, about 1 to 2 minutes. Turn over and crisp the other side for another minute.
To assemble: Slather some refried beans on the inside of the bun and add a sprinkling of the cheddar and pepper jack cheeses. Place a hot dog in the bun and top with some crushed fritos, guacamole, pico de gallo and dot with crema.
Here are some alternate way to jazz up your hot dogs:
Seattle Dog: Spread the hot dog with cream cheese, then top it with grilled onions and sliced jalapenos.
Pastrami Reuben Dog: Wrap the hot dog in pastrami, layer on a slice of Swiss cheese, melt. Top with sauerkraut and Thousand Island dressing.
In a Pickle Dog: Top the hot dog with pickle relish, cucumber wedges and dill pickle wedges. Sprinkle with celery salt.
Pimento Cheese Dog: Spread the hot dog with store-bought pimento cheese, then sprinkle with crushed buttery crackers, such as Ritz.
This recipe was styled by chef Karen Pickus for "Good Morning America."
Other Recipes That You Might Like