Michael Symon's Lazy Meatball Kebabs with Yogurt
A Easy Way to Make Meatballs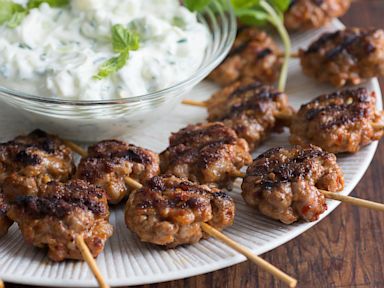 From the kitchen of Michael Symon
|
"The Chew" co-host Michael Symon's new book, "Michael Symon's 5 in 5," shows how to cook a fresh meal in five minutes with only five ingredients. This recipe is an easy take on an often-complicated dish.
Ingredients
1 1/2 pounds spicy Italian sausage, removed from casings if not bulk
Kosher salt and freshly ground black pepper
1 cup Greek yogurt
1/4 cup extra-virgin olive oil
1/2 cup small-diced cucumber
Grated zest and juice of 1 lemon
1/4 cup chopped fresh mint leaves
Cooking Directions
1. Preheat a grill or grill pan to medium-high heat.
2. Form the sausage into 16 small meatballs and thread 2 onto each of 8 skewers. Press the meatballs lightly with your hand to form them into patties. Season the meatballs with salt and pepper.
3. Put the skewers on the grill, cover, and cook for 3 minutes. Flip the skewers, cover, and cook until the meat is well caramelized, about 2 minutes.
4. Meanwhile, in a small bowl, whisk together the yogurt, olive oil, cucumber, lemon zest and juice, and mint. Taste and adjust the seasoning, adding salt and pepper if needed.
5. Remove the kebabs from the grill and put them on a platter. Serve with the yogurt sauce on the side. Serve immediately.
Yield: 8 skewers; 6-8 servings.
Reprinted from the book Michael Symon's 5 in 5. Copyright © 2013 by Michael Symon. Photographs copyright © 2013 by Jennifer May. Published by Clarkson Potter, a division of Random House LLC.
This recipe was styled by chef Karen Pickus for Good Morning America.
Other Recipes That You Might Like