Four & Twenty Blackbirds' Lemon Chess Pie
A Spin On Traditional Dessert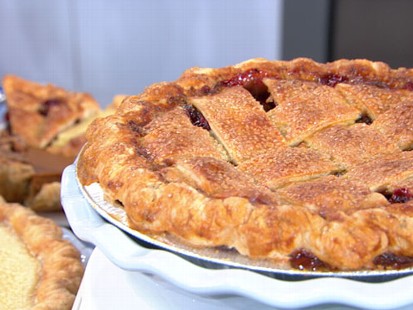 Emily and Melissa of Brooklyn, N.Y., put a delicious twist on an American classic.
From the kitchen of Four & Twenty Blackbirds
|
Four & Twenty Blackbirds pie shop has taken New York City by storm with its farm-to-table ethos and unique flavors like chocolate julep and birch beer float. This year, cap off your Thanksgiving meal by trying something new, like this recipe for lemon chess pie.
Ingredients
For the crust:
1 1/4 cups unbleached all-purpose flour
1/2 teaspoon kosher salt
1 1/2 teaspoons granulated sugar
1/4 pound (1 stick) cold unsalted butter, cut into 1/2-inch pieces
1/2 cup cold water
2 tablespoons cider vinegar
1/2 cup ice
For the pie:
Zest of 1 lemon
1 2/3 cups granulated sugar
1 tablespoon stone-ground yellow cornmeal
1 tablespoon flour
1/2 teaspoon kosher salt
5 tablespoons unsalted butter, melted
5 large eggs
2/3 cup heavy cream
7 tablespoons fresh lemon juice (from about 3 lemons)
3 tablespoons fresh orange juice
1/2 teaspoon vanilla extract
Cooking Directions
For the crust:
Stir the flour, salt, and sugar together in a large bowl. Add the butter pieces and coat with the flour mixture using a bench scraper or spatula. With a pastry blender, cut the butter into the flour mixture, working quickly until mostly pea-size pieces of butter remain (a few larger pieces are okay; be careful not to overblend). Combine the water, cider vinegar, and ice in a large measuring cup or bowl. Sprinkle 2 tablespoons of the ice water mixture over the flour mixture, and mix and cut it in with a bench scraper or spatula until it is fully incorporated. Add more of the ice water mixture, 1 to 2 tablespoons at a time, using the bench scraper or your hands (or both) to mix until the dough comes together in a ball, with some dry bits remaining. Squeeze and pinch with your fingertips to bring all the dough together, sprinkling dry bits with more small drops of the ice water mixture, if necessary, to combine.
Shape the dough into a flat disc, wrap in plastic, and refrigerate for at least 1 hour, preferably overnight, to give the crust time to mellow. Wrapped tightly, the dough can be refrigerated for 3 days or frozen for 1 month.
For the pie:
Position a rack in the center of the oven and preheat the oven to 325 degrees F. Place the prebaked pie shell on a rimmed baking sheet.
In large bowl, stir together the lemon zest, sugar, cornmeal, flour, and salt. Use a wooden spoon or spatula to stir in the melted butter, then the eggs one at a time, stirring well after each addition. Mix briskly until the filling is thick and light colored. Stir in the heavy cream, followed by the lemon juice, orange juice, and vanilla extract. Strain the filling through a fine-mesh sieve directly into the pie shell, or strain it into a separate bowl and then pour it into the shell.
Bake on the middle rack of the oven for 40 to 50 minutes, rotating 180 degrees when the edges start to set, 30 to 35 minutes through baking. The pie is finished when the edges are set and puffed slightly and the center is no longer liquid but still wobbles slightly; it should be lightly golden on top. Be careful not to overbake or the custard can separate; the filling will continue to cook and set as it cools. Allow to cool completely on a wire rack, 3 to 4 hours. Slice and serve. The pie will keep refrigerated for 2 days or at room temperature for 1 day.
Recipes from THE FOUR AND TWENTY BLACKBIRDS PIE BOOK by Emily Elsen and Melissa Elsen. Copyright 2013 by Melissa Elsen and Emily Elsen. Used with permission by Grand Central Publishing. All rights reserved.
Other Recipes That You Might Like