Dan Whalen's Mac and Cheese-cake
Next-Level Comfort Food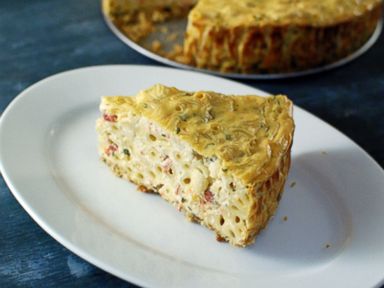 From the kitchen of Dan Whalen
|
Dan Whalen, founder of The Food In My Beard blog, is coming out with a comfort food book that stuffs your favorite foods inside more of your favorite foods. Try his recipe below for Mac and Cheese-cake.
Ingredients
8oz ricotta
8oz cream cheese
8oz cheddar
2 eggs
1/4 cup milk
1 tablespoon sugar
1/2 pound elbow mac
1 can diced tomatoes, strained really well
about 15 basil leaves, finely chopped
1 1/5 cups bread crumbs
3 tablespoons butter
Cooking Directions
Line a springform pan with butter and parchment paper. Mix the butter with the breadcrumbs and press into the bottom of a springform pan. Bake at 350 for about 10 minutes. Meanwhile bring water to a boil for the pasta, start draining the tomatoes, and chop up the basil. In a food processor, process all the cheeses until smooth-ish. Add in the egg, milk, basil, and sugar and blend until actually smooth. Cook the pasta about 3 minutes less than suggested on the package. Mix the pasta with the tomatoes, then dump in the cheesy goodness. Stir well and pour into the springform pan. Bake at 275 for 45 minutes, then shut the oven off but leave the pan in there for another 45. Take the cheesecake out of the oven and let it sit for 20 minutes. Slice and serve.
Other Recipes That You Might Like