Marc Murphy's Jalapeno and Cheddar Potato Pancakes
An Alternative to a Chanukkah Classic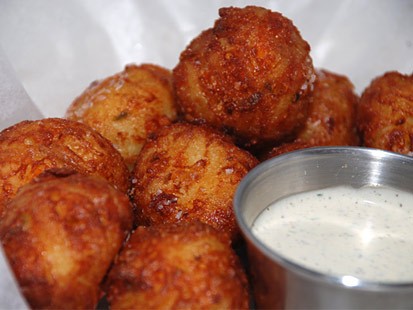 From the kitchen of Marc Murphy
|
Marc Murphy is the chef and owner of Landmarc and Ditch Plains restaurants, as well as a judge on Food Network's popular Chopped series, and for the holidays, shared this recipe for Jalapeno and Cheddar Latkes. The pate au choux makes for a creamier, fluffier potato pancake and the jalapeno adds a bit of spice.
For more information on Marc Murphy and his restaurants, take a look at his site.
Ingredients
For the choux:
1/2 lb butter
1 cup water
1 cup milk
2 cups flour
8 eggs
salt, to taste (a pinch)
For the potato pancakes:
2 lbs yukon gold potatoes
10 oz shredded cheddar cheese
1 1/2 cup pickled jalapenos, chopped
2 cups pate au choux
salt and pepper to taste
oil for frying
Cooking Directions
For the pate au choux:
In a pot, combine the butter, water, and milk and bring to a boil. Once the butter has melted, add the flour and stir until the flour, butter, milk and water have formed a dough and the flour has been cooked out a little bit. Place the dough into a mixer and add the eggs, one by one, waiting for each egg to become fully incorporated before adding the next. Season with salt and remove from bowl. Reserve.
For the pancakes:
Cover potatoes with water in a pot and bring to a boil. Strain and cool. Once they've cooled to room temperature, grate potatoes and mix with cheese and jalapenos. Sprinkle with salt and pepper, to taste, and mix well. Fold in pate au choux until the potato mixture is sticky and can form a patty. Fry the patties in 350 degree oil until golden brown and cooked through. Season with salt and serve while hot.
Recipe courtesy Marc Murphy.
Other Recipes That You Might Like