Marcus Samuelsson's Rhubarb Cobbler
Save Room for This Fruity Dessert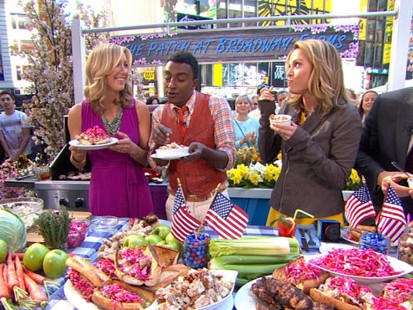 Marcus Samuelsson serves up a refreshing feast to kick off the summer months.
From the kitchen of Marcus Samuelsson
|
Chef Marcus Samuelsson whips up a rhubarb cobbler this Memorial Day.
Ingredients
2 cups all-purpose flour
4 tablespoons granulated sugar
1 cup light brown sugar
1/2 teaspoon baking powder
1/2 teaspoon baking soda
1/2 teaspoon salt
1/2 teaspoon ground cardamom
1/2 teaspoon ground cinnamon
6 tablespoons cold unsalted butter, cut into small pieces
1 cup buttermilk
1 vanilla bean, split lengthwise
3/4 cup honey
Zest of 1 lemon
2 tablespoons cornstarch
1/2 cup red wine
3 cups finely chopped rhubarb
2 cups raspberries
2 cups strawberries, hulled and cut in half
Cooking Directions
To prepare:
Preheat the oven to 400 degrees F.
In a large bowl, stir together the flour, 3 tablespoons of granulated sugar, 4 tablespoons of the brown sugar, baking powder, baking soda, salt, cardamom and cinnamon.
Cut the butter into small pieces and add it to the dry ingredients. Blend the ingredients with a pastry blender or handheld electric mixer until the mixture resembles coarse meal. Add the buttermilk and stir with a fork until the dough takes form.
Divide the dough into 10 pieces and shape each into a 2-inch disc. Arrange the discs on a baking sheet lined with parchment paper and bake until golden biscuits rise, about 15 minutes.
In a medium bowl, add the honey, lemon zest and cornstarch. Slice the vanilla bean down the center and scrape the seeds into the bowl, reserving the bean. Stir and set aside.
In a medium saucepan, over medium heat, bring the red wine, rhubarb and one tablespoon of sugar to a boil. Stir in the honey mixture, add the reserved vanilla bean, and reduce heat to a simmer; cook until the mixture thickens slightly, stirring continuously, about 2 minutes. Stir in the raspberries, strawberries, and 1/2 cup of the brown sugar and cook until the sugar dissolves, another 3 minutes. Remove the saucepan from the heat and take the vanilla bean out of the pot.
To bake:
Butter a 12x10 baking dish. Split 5 of the biscuits and arrange the halves, cut side up, in the bottom of the baking dish. Spoon the berry filling over the biscuits and crumble the remaining 5 biscuits over the top of the berry filling. Sprinkle with the remaining brown sugar. Bake the cobbler until bubbling, about 15 minutes.
To serve:
Tuck into the cobbler when it's warm or at room temperature.
Other Recipes That You Might Like