Home
>
GMA
>
Recipes Home
>
Mario Batali's Focaccina with Roasted Garlic, Scallions, and Provolone
Mario Batali's Focaccina with Roasted Garlic, Scallions, and Provolone
Throw These on the Grill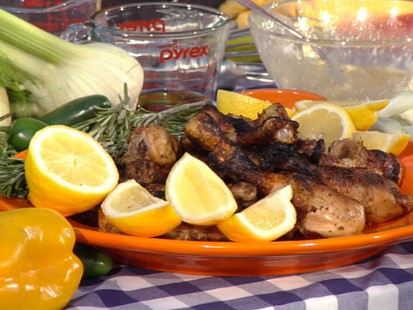 Host of "The Chew" whips up some spicy black pepper-coated drumsticks.
From the kitchen of Mario Batali
|
Same dough as the pizzas, but a different format. Each bread is made from half the dough, rather than just a quarter, so it is thicker and puffs up more on the grill, enabling you to split the focaccine for sammies.
Ingredients
Pizza Dough
½ to 2/3 cup roasted garlic paste (see sidebar)
2 cups grated young or semi-soft provolone
1 bunch scallions, thinly sliced
1½ tablespoons chopped fresh rosemary
Cooking Directions
Serves 6 as an antipasto
Preheat a gas grill or prepare a fire in a charcoal grill.
Divide the dough into 2 pieces. Using a floured rolling pin, roll each piece out to a rough rectangular shape about 12 inches long, 6 to 7 inches wide, and ¼ inch thick.
Carefully place one rectangle of dough on the hottest part of the grill and cook until the bottom is light golden brown and dry, about 2 minutes. Use tongs or a spatula to carefully flip the dough over and cook on the other side. Transfer to a cutting board and allow to stand for 2 minutes. Repeat with the second piece of dough.
Use a serrated knife to cut each focaccina horizontally in half: Hold the top of the bread with your non-cutting hand, maintaining consistent pressure as you carefully cut it into two even halves. Smear the garlic paste evenly over the top halves of the bread and divide the provolone evenly between the bottom halves. Sprinkle the rosemary over the garlic halves, and sprinkle the scallions over the cheese halves. Close the focaccine and wrap each one tightly in foil.
Place the sammies on the grill and heat, turning once, until they are hot and the cheese is melting, 5 to 6 minutes. Carefully unwrap, cut into 1½-inch-wide strips with the serrated knife, and serve.
Recipe courtesy Mario Batali.
This recipe was styled by chef Karen Pickus for Good Morning America.
Other Recipes That You Might Like