Mario Batali's Mezzi Rigatoni with Sausage and Radicchio
Make This Hearty Fall Dish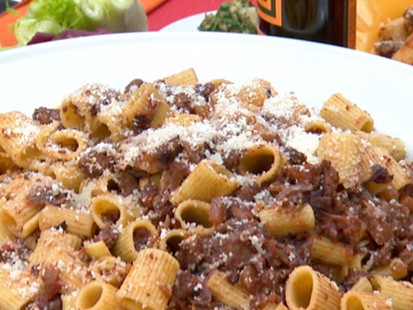 Star of ABC's "The Chew" prepares a dish that provides an Italian spin to Thanksgiving.
From the kitchen of Mario Batali
|
Ingredients
2 pounds Italian sausage (sweet or hot), casings removed, crumbled
1 tablespoon fennel seeds
1 tablespoon hot red pepper flakes
1 red onion, chopped into ¼ inch dice
1 fennel bulb, ribs, and fronds discarded, bulb finely chopped
4 garlic cloves, thinly sliced
2 heads radicchio, cored and finely chopped
1 cup dry red wine, such as Morellino di Scansano
2 cups basic tomato sauce (for quick results, try my Mario Batali pasta Sauces by Gia Russa)
salt and Freshly ground black pepper
1 ½ pounds mezzi rigatoni pasta
freshly grated Asiago cheese, for serving
Cooking Directions
In a heavy-bottomed 14-inch sauté pan, cook the sausage over high heat, stirring occasionally, until it begins to brown, about 10 minutes. Using a slotted spoon, transfer the sausage to a plate.
Add the fennel seeds, hot pepper flakes, onions, fennel, garlic, and radicchio to the pan, and cook over medium-high heat until the vegetables are well browned, about 10 minutes.
Return the sausage to the pan, add the wine and the tomato sauce, and bring to a boil. Then lower the heat and simmer until the radicchio is very tender and the sauce is has thickened, about 10 minutes. Season well with salt and pepper; and remove from the heat.
Bring 8 quarts of water to a boil in a large pasta pot, and add 2 tablespoons salt. Drop the mezzi rigatoni into the water and cook for 1 minute less than the package instructions indicate. Just before the pasta is done, carefully ladle ½ cup of the cooking water into the sausage mixture.
Drain the pasta in a colander and add it to the sausage mixture. Toss over medium heat for about 30 seconds, until the pasta is nicely coated. Pour into a warmed serving bowl and serve immediately, with a bowl of grated Asiago on the side.
This recipe was styled by chef Karen Pickus for Good Morning America.
Molto Batali (Ecco 2011)
Other Recipes That You Might Like