Mario Batali's Mom's Gazpacho
A Batali Family Recipe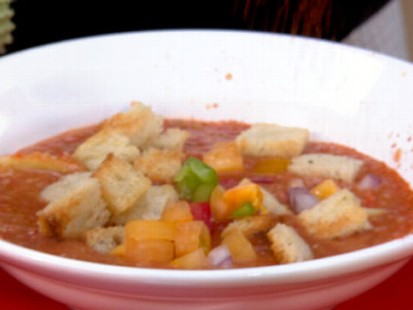 "The Chew" star joins "GMA" to share some of his favorite recipes.
From the kitchen of Mario Batali
|
Try making this chilled summer soup before the warm weather disappears.
Ingredients
2 English cucumbers, peeled, halved and seeded
2 red bell peppers, plus 1 green cored and seeded
4 overripe heirloom tomatoes
1 red onion
3 cloves garlic
3 cups vegetable juice
1/4 cup sherry vinegar
1/2 cup good quality extra virgin olive oil
1/2 tablespoon Kosher salt
1 teaspoon cayenne
1 cup (1/4 - inch diced) croutons toasted golden brown
Cooking Directions
Carefully chop half of the cucumbers, bell peppers, tomatoes, and red onions into 1/4-inch dice and line up on a nice relish tray. Put the remaining vegetables and garlic into a food processor, add the vegetable juice, sherry vinegar, olive oil, salt and cayenne and pulse until smooth.
Serve chilled in flat bowls, top with croutons and with the garnish tray on the side
Recipe courtesy Mario Batali.
This recipe was styled by chef Karen Pickus for Good Morning America.
Other Recipes That You Might Like