Mario Batali's Mushroom and Goat Cheese Frittata
An Easy Morning Meal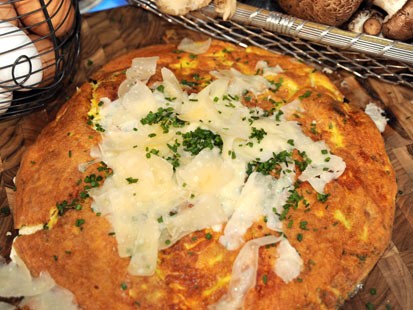 From the kitchen of Mario Batali
|
Try Mario Batali's mushroom and goat cheese frittata recipe.
Ingredients
4 tablespoons Extra Virgin Olive Oil
10 ounces assorted mushrooms (Cremini, shiitakes, Portobello, or Oyster)
1/2 pound fresh goat cheese
8 eggs
1 bunch chives, finely chopped to yield 2 tablespoons
Salt and pepper
Pecorino Romano, to taste
Cooking Directions
Preheat oven to 425 F.
In a 12" non-stick sauté pan, heat oil until smoking. Add mushrooms and cook for about 5 minutes. Meanwhile, mix eggs, cheese, chives and season with salt and pepper. Pour into mushroom pan and cook 3 to 4 minutes, pulling in sides with a wooden spatula to distribute raw egg around the pan. Place in oven and bake 8 to 10 minutes until just cooked through. Invert on serving platter and cut into 8 slices.
Recipe courtesy Mario Batali.
This recipe was styled by chef Karen Pickus for Good Morning America.
Other Recipes That You Might Like