Mario Batali's Pennette with Spicy Sicilian Pesto
A Spicy Summer Entree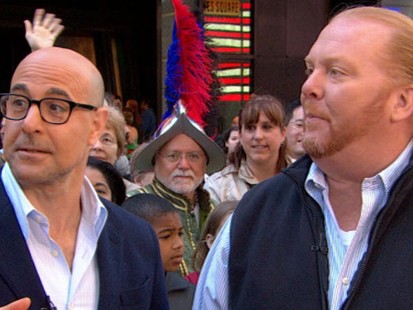 The chef and the actor whip up some budget-friendly Italian recipes.
From the kitchen of Mario Batali
|
This recipe is a delicious take on a traditional pesto.
Click here for more information on Food Bank for New York City.
Ingredients
2 cups lightly packed fresh basil leaves
½ cup fresh mint leaves
3 garlic cloves
2 serrano chilies, cored, and seeded
1 tablespoon hot red pepper flakes
½ teaspoon fennel seeds
¼ cup sliced blanched almonds
½ cup extra virgin olive oil
¼ cup plus ¼ cup freshly grated Pecorino Siciliano
Salt
1 ½ pounds pennette pasta
Cooking Directions
Bring 8 quarts of water to a boil in a large pasta pot.
Place the basil, mint, garlic, chilies, red pepper flakes, fennel seeds, and almonds in a food processor and pulse three times to start the chopping process. Add in the oil in a thin stream and pulse four or five times to create a thick paste (not a thin, oily sauce). Add ¼ cup of the cheese and pulse once to mix it in. Season the pesto with salt if it needs it.
Place 1 cup of the pesto in a large warmed salad bowl.
Add 2 tablespoons salt to the boiling water. Drop the pennette into the water and cook for 1 minute less than the package instructions indicate. Just before it is done, carefully ladle ¼ cup of the cooking water into the bowl containing the pesto.
Drain the pasta in a colander, dump into the bowl. Toss it gently with the pesto, like tossing a salad, for about 30 seconds, until the pasta is nicely coated. Serve with a scant dusting to f the remaining cheese over each portion.
Recipe courtesy Molto Batali.
This recipe was styled by chef Karen Pickus for Good Morning America.
Other Recipes That You Might Like