Mario Batali's Summer Caprese Salad
Perfect for the End of Summer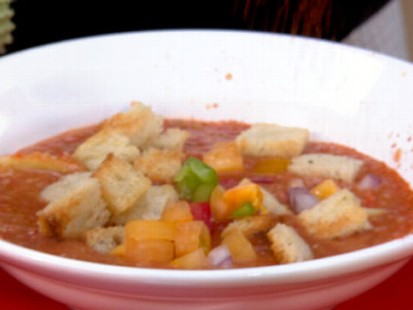 "The Chew" star joins "GMA" to share some of his favorite recipes.
From the kitchen of Mario Batali
|
This light salad uses end-of-summer tomatoes. fresh mozzarella and a bright burst of fresh basil.
Ingredients
10 ounces fresh mozzarella
1 1Z2 pounds assorted ripe tomatoes (choose a combination of colors, types,
and size), such as Brandywine, purple Cherokee, cherry, pear, peach,
and/or Green Zebra)
2 tablespoons champagne vinegar
6 tablespoons extra virgin olive oil
1 small bunch basil (Genovese, lemon, Thai, or fino verde), leaves
removed, or about 1 cup mixed fresh basil leaves
Maldon or other flaky sea salt
Cooking Directions
With a sharp knife, cut the mozzarella into 1Z2-inch-thick slices. Transfer to a serving platter, reserving any milky liquid from the cheese in a small cup.
If using cherry or grape tomatoes, cut them half; reserve the juices. Core the remaining tomatoes and slice them, reserving the juices. Arrange the tomatoes on the cheese.
Whisk the vinegar, reserved tomato juices, any liquid from the mozzarella, and the olive oil together in a small bowl.
Tear the basil leaves over the salad. Pour the vinaigrette over it, sprinkle with salt, and serve.
Recipe courtesy of Molto Gusto (Ecco 2010)
This recipe was styled by chef Karen Pickus for Good Morning America.
Other Recipes That You Might Like