Mary McCartney's Corn Fritters
A Great Family-Friendly Vegetarian Starter or Tasty Lunch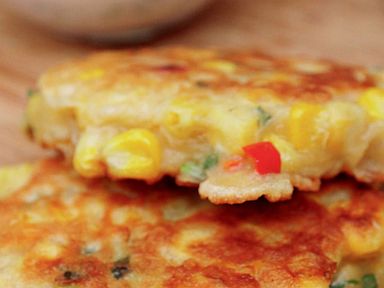 From the kitchen of Mary McCartney
|
Mary McCartney, acclaimed photographer and daughter of Paul and Linda McCartney, shares simple, vegetarian meals that the whole family can enjoy in her new cookbook, "In Food: Vegetarian Home Cooking."
"These fritters make a great starter or lunch. They work really well with various different sauces and dips, such as a spoonful of Guacamole on the side, or with sweet chili dipping sauce, or even a yogurt and cucumber dip. I like to use fresh chilies, but a pinch of dried chili flakes works well, too. When I am making these for kids, or friends that don't like spice, I just leave out the chili." -- Mary McCartney
Ingredients
1 cup all-purpose or light spelt flour
1/2 teaspoon baking powder
2 large, free-range eggs, beaten
1/3 cup milk
2 cups corn kernels, cut fresh off the cob (or frozen corn, thawed, or canned corn, drained)
1 clove garlic, finely chopped
1 red chili, seeded and finely chopped (optional)
2 scallions, trimmed and finely chopped
1 tablespoon fresh parsley or cilantro, chopped
sea salt and black pepper, to taste
1 to 2 tablespoons vegetable or light olive oil for frying the fritters
For the dipping sauce:
6 tablespoons plain yogurt
½ small fresh red chili, finely chopped
1 tablespoon fresh parsley or cilantro, finely chopped
1 tablespoon chili pepper jam or sweet chili sauce
½ teaspoon freshly squeezed lemon juice
Cooking Directions
In a medium mixing bowl stir the flour and baking powder together, then gradually stir in the beaten eggs and milk. Mix well to form a smooth batter.
Stir in the corn, garlic, chili (if using), scallions, and herbs, and mix the ingredients well so that they are coated in the batter. Season with salt and pepper.
Heat the vegetable oil in a large non-stick frying pan until it is hot. You can test this by dropping a tiny bit of the batter into the pan -- you should hear it sizzle when it hits the pan.
Spoon in a tablespoon of the mixture for each fritter, leaving space between them so that they don't stick together (you may need to do this in batches). Pat each fritter down a bit so it's flatter and easy to cook on both sides. Fry until golden brown and then turn it over to brown the other side. This should take about 2 minutes per side. Repeat this process until all the mixture has been cooked.
Serve immediately, or wrap the fritters in aluminum foil and keep in a warm oven until they're all cooked.
To make the dipping sauce, just mix all the ingredients together in a small bowl.
Makes about 12 3-inch fritters.
Other Recipes That You Might Like