The Meatball Shop's Spinach-Basil Pesto
An Easy Way to Eat Your Greens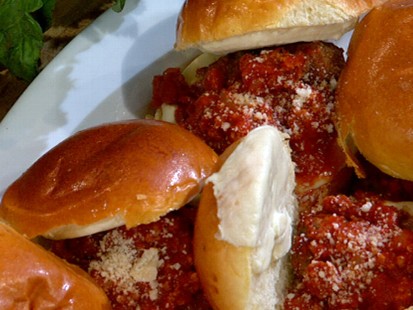 Daniel Holzman and Michael Chernow put unique twists on the Italian favorite.
From the kitchen of The Meatball Shop
|
Ingredients
¼ cup roughly chopped walnuts
4 cups baby spinach leaves
2 cups fresh basil
1 teaspoon salt or to taste
½ cup olive oil
¼ cup grated Parmesan Cheese
Cooking Directions
Preheat the oven to 350°F.
Fill a large stockpot three-quarters full with water and bring to a boil over high heat.
Meanwhile, spread out the walnuts on a small rimmed baking sheet and roast in the oven for about 12 minutes, giving them a shake after 6 minutes. Continue roasting until golden brown and toasted. Set aside and allow to cool thoroughly.
Fill a large bowl halfway with ice and water, and set it close to the sink.
Dump the spinach and basil into the boiling water and stir. After 1 minute, strain the greens, and plunge them into the bowl with ice water. Drain the greens again and squeeze them tightly to get as much water out as possible. Chop the greens roughly.
Combine the greens and walnuts with the salt, olive oil, and Parmesan in a food processor and process until a smooth consistency is reached. Taste and season with additional salt, if desired.
Recipe courtesy The Meatball Shop.
This recipe was styled by chef Karen Pickus for Good Morning America.
Other Recipes That You Might Like