Tasting Table's Mexican Corn Soup with Chipotle Crema
Fiesta Food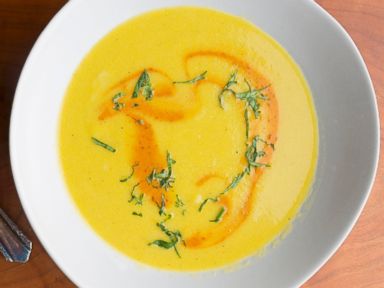 From the kitchen of Tasting Table
|
Go beyond salsa and guac this Cinco de Mayo with TastingTable.com's recipe for Mexican Corn Soup with Chipotle Crema below.
Ingredients
1/4 cup sour cream
4 canned chipotle chiles in adobo
Juice from 1 lime
Salt, to taste
6 ears corn, husks and silks removed
3 tablespoons olive oil
3 yellow onions, thinly sliced
1 fresh bay leaf
1 sprig thyme
6 cups plus 1 tablespoon water
Chopped cilantro, for garnish
Cooking Directions
In a blender, purée the sour cream, chiles, lime juice and salt. Transfer the chipotle cream to a bowl and set aside.
Heat a grill pan over medium-high heat. Grill the corn, turning occasionally, until charred, about 15 minutes. Once the corn is cool enough to handle, working with one ear of corn at a time, slice off the kernels into a bowl.
Heat the oil in a large pot over medium heat. Add the onions and cook, stirring, until soft but not colored, about 15 minutes. Add the corn kernels, bay leaf and thyme and cook for 5 minutes. Add the water, increase to medium-high heat, and simmer, uncovered, for 10 minutes. Discard the bay leaf and thyme and, working in batches, blend the soup until smooth with a hand blender. Strain the soup over a bowl and season with salt.
To serve, divide the soup among 6 bowls. Drizzle each with some of the chipotle crema and garnish with cilantro.
Recipe courtesy TastingTable.com.
Other Recipes That You Might Like