Michael Symon's Bacon Tater Tots
Homemade Tater Tots? Say No More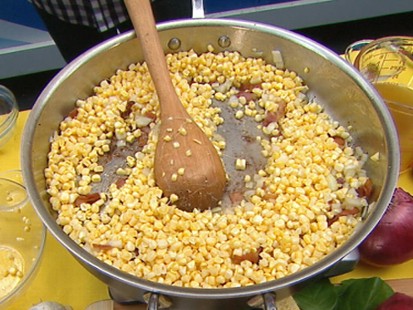 Host of ABC's "The Chew" prepares favorite fall recipes using corn and pumpkin.
From the kitchen of Michael Symon
|
These homemade bacon tater tots are incredible. Make them for the game on Sunday!
Ingredients
2 tablespoons unsalted butter
1/4 cup all-purpose flour
1 large egg
1 cup mashed potatoes
canola oil, for deep-frying
1/2 pound bacon
panko bread crumbs, for breading
kosher salt
Cooking Directions
In a small saucepan, combine the butter with 1/4 cup water over high heat. When the water comes to a simmer and the butter is melted, add the flour. Reduce the heat to medium and stir until the resulting paste pulls away from the sides of the pan, 1 to 2 minutes. Remove from the heat. Allow to cool for 5 minutes. Add the egg to the pan and stir vigorously until the egg is incorporated into the flour mixture. Stir in the mashed potatoes and let cool.
Pour enough oil into a medium pot so that the oil comes 3 inches up the sides. Heat the oil to 350 degrees F.
While the oil heats, gently fold the bacon into the potato mixture; the lumpier the batter, the better. Using two soup spoons, shape the mixture into quenelles, or 2-inch footballs. (You should end up with about 35.) Roll in the panko. Deep-fry, working in batches and turning once, until crisp, brown, and heated through, 2 to 3 minutes. Drain on paper towels and season with salt.
This recipe was styled by chef Karen Pickus for Good Morning America.
Recipe courtesy Michael Symon.
Other Recipes That You Might Like