Michael Symon's Brat Burgers
Fire Up the Grill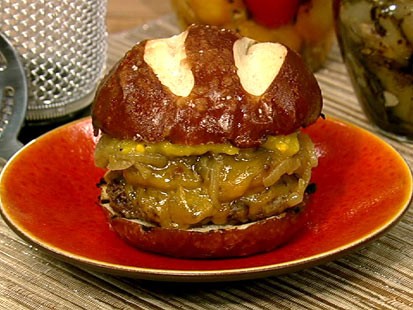 From the kitchen of Michael Symon
|
Ingredients
1 lb ground beef (80/20 blend)
1 lb bratwurst, removed from casings
1 onion, sliced thinly and evenly
2 tbsp olive oil
1/4 lb gruyere, cut into slices
pretzel rolls
shasha sauce, to garnish
splash of beer
ballpark mustard, for garnish
Cooking Directions
In a large skillet over low heat, add the olive oil, and the onions. season with salt, and caramelize. Maintain an even layer, so that onions uniformly cook, stirring occasionally, for 30 to 45 minutes. When the onions are almost done add a splash of beer to the pan and stir to combine.
Preheat a grill or grillpan to medium-high heat.
Form the bratwurst into four patties. Form the ground beef into four patties. Season on both sides with salt and pepper and arrange on grill, being mindful not to crowd the surface, and cook to desired done-ness, about 5 minutes per side. After flipping the ground beef patties, add the cheese to the cooked side of the patty and allow to melt while other side cooks through.
Toast pretzel rolls and assemble sandwiches with the bratwurst and ground beef patties, and topping with caramelized onions. Garnish with shasha sauce and brown mustard.
Recipe courtesy The Chew.
Other Recipes That You Might Like