Michael Symon's Polish Boy
The Ultimate Tailgate Food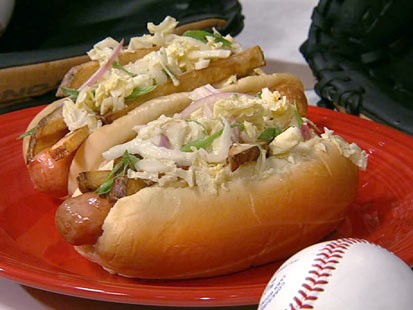 From the kitchen of Michael Symon
|
Enjoy these polish boy sandwiches while watching the big game. For more great recipes visit The Chew's site.
Ingredients
4 Kielbasa
4 Hoagies
1/2 head Napa Cabbage
1/2 clove Garlic minced
1/2 small Red Onion
1/2 Fresh Jalapeno minced
3 tablespoon Champagne Vinegar
3 tablespoon Ball Park Mustard
2 tablespoon mayonnaise
1 tablespoon sugar
1 1/2 teaspoon salt
1 tablespoon Worcestershire sauce
12 hot banana peppers
4 garlic cloves
1 Cup yellow mustard
1 Cup white wine vinegar
3/4 Cup sugar
1/3 Cup all-purpose flour
2 pound Russett Potatoes cut into matchsticks
Canola Oil
Salt
Cooking Directions
Prepare the sauce: In a food processor, puree the peppers, garlic, mustard and vinegar.
Pour the puree into a nonreactive saucepan, then add the sugar and bring it to a boil over high heat. Lower the heat and simmer the mixture for 30 minutes.
In a small bowl or juice glass, mix the flour and 1/2 cup water to make a smooth paste. Whisk it into the pepper mixture and continue to simmer for 20 minutes, stirring regularly, until it becomes very thick. Let the sauce cool, then pour it into a covered nonreactive container (such as a glass jar). The sauce can be refrigerated for up to 1 month.
Prepare the slaw: In a medium bowl, mix together the cabbage, garlic, onion, jalapeno, vinegar, mustard, mayonnaise, sugar, salt, Worcestershire sauce and ShaSha Sauce. Cover and refrigerate 1 hour.
Prepare fries: Peel the potatoes and cut them into long fries about 1/4 inch thick. As you cut them, put them in a bowl of cold water to cover.
Pour enough oil into a medium pot so that the oil comes 3 inches up the sides. Heat the oil to 275 degrees Farenheit.
Drain the fries and pat dry. Working in batches if necessary, cook them in the oil for about 5 minutes; they should be soft and pale. Remove them from the oil using a slotted spoon and rinse under cold water to remove excess oil and starch for a crisper fry later. Reserve the pot of oil.
Cover a rimmed baking sheet with paper towels and lay the fries on top. Chill completely in the refrigerator. The potatoes can be prepared this way up to a day in advance of cooking them. Heat the oil to 350 degrees Farenheit. Add the fries, in batches, if necessary, to the oil and cook, stirring gently, until the fries are golden brown, about 5 mintues. Remove them from the oil to a large paper-towel-lined bowl and season them salt, shaking the bowl to distribute the seasonings evenly.
Fry Kielbasa for 5-10 minutes per side, until done. Place in hoagie bun, top with slaw and fries and serve.
Recipe courtesy The Chew.
Other Recipes That You Might Like