Michael Symon's Pork Burger
Better Than Plain Beef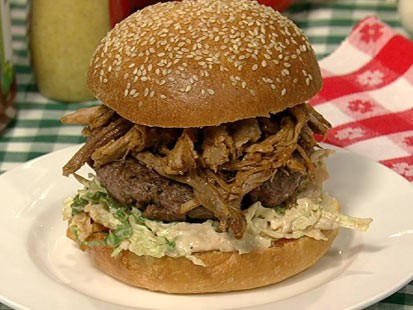 From the kitchen of Michael Symon
|
Ingredients
8 oz ground sirloin
8 oz ground short rib
8 oz ground brisket
3 oz ground bacon
Kosher salt
Cracked black pepper
4 brioche buns
Pulled pork butt with C-Town BBQ Sauce
Cole slaw
Mayo
For the cole slaw:
1 head savoy cabbage, shredded
3 carrots, shredded
5 scallions, thinly sliced
1 cup cilantro, chopped
1 cup parsley, chopped
1/3 cup pickle juice
1/2 cup mayonnaise
1 tbsp salt
Cooking Directions
Build a medium-hot fire in your grill or preheat a stovetop grill pan.
Combine all the meats together and form into 4 patties (about 3 1/2 inches in diameter each). Season the patties with salt and cracked black pepper, to taste. Make a thumbprint in the middle of the burger to keep from shrinking while cooking.
Brush the outside of the patty with a little olive oil. Put the burgers on the grill or in the grill pan and cook for 3 minutes. Flip and grill for 3 minutes for medium- rare. Remove them to a plate.
Put a small spread of mayonnaise on each bun and toast lightly on the grill.
Build the burgers by sandwiching them between the brioche buns along with a spoonful of slaw and pulled pork butt BBQ.
To make coleslaw:
In a mixing bowl add chopped herbs to the shredded cabbage. Add the remaining ingredient and toss to combine. Add more salt if necessary.
Recipe courtesy The Chew.
Other Recipes That You Might Like